News
---

9.28.06 - TVGuide.com: Per the Hollywood Reporter, James Marsters will play the best friend of Hilary Swank's late husband in the romantic drama P.S., I Love You.

9.7.06 - Amy Acker and her husband, James Carpinello, welcomed their second child into the world on Friday, September 1st, in Los Angeles, reports People magazine. Ava Grace weighed 7 lbs. 4 oz. at birth and has an older brother, Jackson, who's 19 months old. "Amy, James and Jackson are enjoying the new addition to their family," says Acker's rep.



Charisma Carpenter
by Bob D'Amico/ABC
9.6.06 - TVGuide.com: Charisma Carpenter Gets a Buffy Reunion

by Matt Webb Mitovich

Just as I was packing my bags to fly out to Los Angeles for the Primetime Emmys, the call came: "Can you interview Charisma Carpenter tomorrow?" As in, the moment I touched down at LAX. It was asking a lot, but, hey, we're talking about the great-to-gab-with gal otherwise known as Buffy the Vampire Slayer/Angel's crafty Cordelia and Veronica Mars' man-eater Kendall, who maybe, just maybe, might channel her inner Wonder Woman to play a big-screen superheroine. I said yes and, charmingly, she seemed to have as many questions for me as I had for her. Here in Part 1 of the Q&A, we discuss a pair of Buffy reunions: ABC Family's Relative Chaos (airing tonight at 8 pm/ET and teaming her with Nicholas Brendon) and the Bones she might have to pick.

TVGuide.com: So I'm in L.A., you're in L.A.... Why are we doing this interview over the phone?
Charisma Carpenter: I'm on my way to my friend's pool.

TVGuide.com: Your friend's pool? Why is it that we picture you lounging around your own pool all day long?
Carpenter: Because you saw me do that on Veronica Mars. [Laughs]

TVGuide.com: Did you feel my offer to "meet at the hotel for drinks" was untoward? Because I'm married, you're married, I'm rather resistible....  What could have happened?
Carpenter: [Laughs] It was very, very tempting, but I am meeting my husband, my brother's in town, and I have a 3-year-old to think of.... I would have loved to go otherwise!

TVGuide.com: I watched Relative Chaos on my DVD player on the flight out here....
Carpenter: So when you laughed out loud, was it all at Nicky Brendon?

TVGuide.com: Yes, he was very funny. How was that little Buffy reunion?
Carpenter: It was lovely. My last interviewer pointed out that it had been seven years since we last worked together. I thought that seemed rather odd, and off, and wrong, and not possible.

TVGuide.com: Your "last interviewer"? You're interviewing with other people?
Carpenter: [Sheepishly] I am.... Hey, what do you think of Julia Louis-Dreyfus' new show [The New Adventures of Old Christine]?

TVGuide.com: It's cool. I loved her on Seinfeld, of course, so I'm definitely giving the show a shot.
Carpenter: I think Elaine influenced Cordelia a lot. I found myself subconsciously doing things [and] going, "Oh, my god, that was so Elaine!"

TVGuide.com: Now that you mention it, I can see that — even with the occasional shove/"Get out!"
Carpenter: Yes! In a cemetery [on Buffy] I did that with Nicky once, and that is specifically what I thought of. Seinfeld was such a landmark show.

TVGuide.com: I was thinking on the plane ride that if Julia Louis-Dreyfus wants to do a film, she could do "Snakes on Elaine."
Carpenter: That would be so good! She can try to shake them off and everything. What's the deal with Snakes on a Plane, anyway?

TVGuide.com: Define "What's the deal?".
Carpenter: Is it purposefully tongue-in-cheek? Is it funny...?

TVGuide.com: It doesn't take itself entirely seriously, it's just summer escapist fare. [I explain further, and tell her about my related interview with Samuel L. Jackson.]
Carpenter: Oh, wow. Interesting. Is it fun to be an interviewer?

TVGuide.com: Well, of course I could talk to you forever.
Carpenter: Have you interviewed David Boreanaz?

TVGuide.com: Actually, I usually generously hand off David to one of my female counterparts. Was reuniting with Nicky a factor in deciding to do Relative Chaos?
Carpenter: It wasn't a deciding factor, but it was a plus, like, "Oh, wow...." It's hard to say because between Alyson [Hannigan, who once shared a scene with Carpenter on Veronica Mars] and Nicky now, I have often been linked [to Buffy], and it's always a "marketing coup" when we get that to happen. I don't think any of us purposely seeks that out, it's not an angle we want to be living with for the rest of our lives as actors, but in [Brendon's] case, I was excited to do it.

TVGuide.com: What about you popping by David's show, Bones?
Carpenter: Interesting... I actually just saw David today. If I did another little Buffy coup, it would be with David.

TVGuide.com: I am so sad to see that in Relative Chaos, yet again, you're not playing the nicest girl in world.
Carpenter: That's funny because the feedback was that I was too nice. Nobody said, "You need to be meaner!"

TVGuide.com: Why aren't you getting the nice-girl roles? Do you go into auditions wearing fishnets and stilettos, dragging on a cigarette?
Carpenter: That's an interesting concept, maybe I should try that! No, I do nice-girl roles, they're just not as fun. I like being "psychotic." And in the last ABC Family movie I did, I was nice! I have flashes of niceness.

TVGuide.com: Is the Carpenter clan competitive like the family featured in Chaos? Any sibling rivalries?
Carpenter: No, we're not really competitive with one another, because I think our ages are so spread out. But with others, when the chips are down.... My favorite metaphor is from tennis: Do you have the courage to win? Do you have the courage to serve an ace? It's sort of like that.

TVGuide.com: I was going to say that to stay as busy as you do, you must have some "eye of the tiger" in you.
Carpenter: People say that, but I don't know. Sometimes I feel like a big pussycat. I do pound the pavement, but it hasn't been a very fruitful experience, so I'm contemplating not doing that anymore.

TVGuide.com: Whoa, what's that mean? You want to be a stay-at-home mom?
Carpenter: No, no, no! Let's get this clear: I want to act for the rest of my life. I love what I do. I love, love, love going to work. I love being on the set, I love the camaraderie, I love meeting new people and going to new locations. I love the working part. I don't like the getting-the-job part. [Laughs] That's the hard part! It wears me down, and it's hard to keep the momentum going.

8.31.06 - David Boreanaz will be on Live with Regis and Kelly on Friday, September 8th.

8.30.06 - TVGuide.com: Bones' Booth Gets His Sexy On

by Angel Cohn

Since the very first episode of Bones, audiences have been enthralled with Booth (David Boreanaz) and Brennan (Emily Deschanel) and their will-they-or-won't-they relationship. TVGuide.com got a chance to talk to Boreanaz about what's in store romantically for his character this year (the short answer: a lot!), and what he did on his summer vacation.

TVGuide.com: How'd you spend your hiatus?
David Boreanaz: It was kind of short, since we finished later than normal and started back on production in June. I went home to Philadelphia, then went to Mexico to kind of dissolve myself with some sand, beach and water, and a bottle of tequila, which was nice.

TVGuide.com: Sounds relaxing.
Boreanaz: It went fast, and it is hard to believe that we are already on our sixth episode.

TVGuide.com: Were you surprised to find out that the show was debuting in August?
Boreanaz: Last year we premiered in September, right before Emmy weekend, but I guess it worked out well because they've got to get a certain amount of episodes on before baseball [playoffs coverage] starts. I'm just like, whatever. [The short break] kind of takes away from family life and personal life, but at the same time, I'm working and I love working on the show. I've just got to balance all that stuff out. It's good. I can't complain.

TVGuide.com: Are you happy with your Wednesdays-at-8 time slot? Don't take this the wrong way, but I really loved it when it was on Tuesday, paired with House.
Boreanaz: I think last year we were all excited about the whole [leading into] American Idol thing, and then House took that slot. We were with House at the beginning, and it would have been a great combination, but Wednesday is a good kickoff for us, and who is to say they won't put us back [with House]. You can't really tell what they are going to do or not. They move you around so damn much and it gets frustrating for the viewers, but they have other shows that they have to premiere. We're out of the honeymoon period.

TVGuide.com: Regardless, the show seems to be doing well.  
Boreanaz: I'm not complaining. I think this season is going to be a big surprise for everybody in terms of how much we've grown and how much the stories have grown. There is a more personal touch that each story is going to have, just in regards to my relationship with [Brennan], my relationship with others who are coming on the show, and the struggle that [Brennan] has with her family. I think it will open up Emily's character. It is good to see her smile; I like that. We have a new producer/director on board who came from The X-Files, we've got a whole new crop of writers, and we got a new DP who has set a fantastic tone for the look of the show. So it is different and just a lot of fun. I'm very pleased with the four episodes we've locked in so far.

TVGuide.com: Sometimes with all those behind-the-scenes changes, you get nervous. But I just watched the premiere, and it was fantastic.
Boreanaz: Oh, did you like the premiere? It's fun, isn't it?

TVGuide.com: I especially liked that the story line with Brennan's family from the season finale was continued.
Boreanaz: Yeah, that's going to be a running thing throughout the whole year. Then I think we'll get into our personal lives even more so. We're not a huge-arc show — we kind of end our episodes [in one week] — but we will be doing more B-stories this year because we found the right B-stories to go with. I love [the premiere]. I love when we are on stakeout and she's tapping my shoulder.

TVGuide.com: It seems like you two have a good relationship.
Boreanaz: We have a great relationship both on and off screen. We work really hard on the character stuff with Ivana Chubbuck, who is a fabulous acting coach. She coached Halle Berry to an Academy Award. She has a great spirit and we work with her on weekends on our character stuff. Our relationship on camera just keeps getting better and better. As long as we entertain, that's all that matters.

TVGuide.com: And you've got Tamara Taylor joining as Brennan's new boss, Cam.
Boreanaz: She's great, she adds a whole new dimension and a whole new feel. I think it adds a better conflict between me and [Cam] and Bones. It is going to be an ongoing story.

TVGuide.com: In the premiere, Angela (Michaela Conlin) thinks there was something sexual between Booth and Cam. Was there?
Boreanaz: Oh, yeah! That is definitely in the past and that will definitely come forward again. There is going to be a lot of Booth in the sheets this year.

TVGuide.com: So you'll get a love interest?
Boreanaz: Yeah. There's going to be more than one love interest. We have Jessica Capshaw (The Practice) coming on to play the mother of my child, so that's going to get kind of crazy. It is a delicate line that we're treading. I think my relationship with Bones will always be there, but hey, a man's got to do what a man's got to do.

TVGuide.com: It must be tough for you as an actor to work with all these pretty actresses.
Boreanaz: Ah, man. I've got the hardest job. Very, very tough.

TVGuide.com: So with Jessica Capshaw coming on, will we get to see more of Booth with his son?
Boreanaz: Yeah, we'll see him in the beginning, about Episode 3, with her introduction. Episode 5 is when she comes in and things start getting a little heavy between the two of us.

TVGuide.com: Anyone else popping up?
Boreanaz: We'll see Bones' brother come later on. And I think one of the more fascinating characters that we have will be revisited, a serial killer by the name of Epps. We introduced him early on last year, in the prison. He's going to be quite a problem throughout the season. We're kind of excited to have that kind of antagonist in the back of our heads.

TVGuide.com: One of my favorite parts of the show is Booth tormenting the squints. Will we get more of that this season?
Boreanaz: You are going to get a lot of that this season. I think my relationship with Hodgins will be one of support since he really wants to be in the field with me because he's so into the whole conspiracy thing. He comes from a wealthy family. I think his love of adventure will help Booth out, and Booth will be like, "Let me show you how it is done, kid." I know there is a budding romance between Angela and Hodgins, but who is to say Booth can't get a little action? Why not?

TVGuide.com: Is there a girl on the show who doesn't go for Booth?
Boreanaz: I don't know. When we started out, Angela was very much like, "Oh, yeah, Booth's hot," but Angela and I haven't done many scenes together. My domain is really around Bones, and the rest is sporadic. My relationship with Cam will be more in the spotlight than any [relationships with] the other squints.

TVGuide.com: Anything else you can tell us for the rest of the season?
Boreanaz: There is some talk about my relationship with Bones. We're going to flirt the audience with it. We may even do an episode where we are possibly in Las Vegas and we have to share a bedroom together. We're going back old-school to It Happened One Night. The adventure will start rolling, and I think the fans are going to be in for a really great season.



Emily Deschanel and David Boreanaz
by John Shearer/WireImage.com
7.26.06 - TVGuide.com Caught in the Act: They've got that tan do spirit Despite working around dead bodies all day on Bones, Emily Deschanel and David Boreanaz looked pretty lively at Fox's press-tour party. -->

6.30.06 - TVGuide.com: Thanks to some fancy licensing-rights footwork by bossman Garth Ancier, WB will end its 11-year run on Sunday, Sept. 17, by rebroadcasting the pilots of signature series Buffy the Vampire Slayer, Felicity, Angel and Dawson's Creek, Variety reports. The net's five-hour farewell package will also include promos from years gone by and a tribute reel recounting the famous faces who have graced its broadcast signal. Says Ancier, "This will be an homage to our shows." The schedule is: 5pm ET - Felicity, 6pm ET - Angel, 7pm ET - Buffy (2 hours), 9pm ET - Dawson's Creek.

5.22.06 - Kristin at E!Online reports that Charsima Carpenter is going to do a movie with Nicholas Brendon and Chris Gorham for the ABC Family Channel this fall. It's a comedy called "Relative Chaos," and it's about a sibling rivalry that rears its ugly head at a family reunion. Carpenter and Gorham will be playing each other's love interests.

4.19.06 - From TVGuide.com: Per Variety, Angel cocreator David Greenwalt has inked a deal to serve as show runner and exec producer for Kidnapped, the drama series already greenlit by NBC for 13 episodes.



Charisma Carpenter
by Scott Garfield/UPN
3.14.06 - TVGuide.com - Charisma Carpenter: From Mars to Paradise Island?
by Matt Webb Mitovich
With the long-awaited next new episode of UPN's Veronica Mars now just a day away (airing Wednesday at 9 pm/ET), TVGuide.com grabbed a (figurative) hold of Charisma Carpenter, who this season has been appearing as Dick and Beaver's head-turner of a stepmother, Kendall Casablancas. Here is what the Buffy/Angel alumna had to share about her present in Neptune, her possible future on Paradise Island and the thing she cannot believe she revealed to Playboy.
TVGuide.com: You next appear on Veronica Mars in "The Quick and the Wed," airing March 22. I hear that Kendall makes some sort of offer to Aaron Echolls?
Charisma Carpenter: Yes, I do have a nice offer for Aaron — a piece. [Laughs]
TVGuide.com: A what?
Carpenter: A piece.
TVGuide.com: Meaning a gun? Or of a--? Or of the action?
Carpenter: That's the big question. Maybe a piece of the pie, maybe a piece of me....
TVGuide.com: On the topic of whether Duncan actually ever succumbed to Kendall's charms, Mars creator Rob Thomas said here at TVGuide.com, "Duncan's not built that way." Is that ego-deflating for you to hear or — and this is my theory — is Duncan simply built the wrong way?
Carpenter: The latter! [Laughs] I guess Kendall is just not very discerning about to whom she gives her body. But, given some new insights I've been given from Rob, apparently everything has a purpose and a meaning. My character's IQ is about to jump up about 50 points, did he tell you that? Things are about to become very clear.
TVGuide.com: What, has Kendall been putting on some sort of act?
Carpenter: [Coyly] I guess.... Rob likened her to Annette Bening in The Grifters, which as you know is an amazing role. I was like, "Really? That's goooood!" I just love those people [at Veronica Mars]. They're awesome.
TVGuide.com: So you're happy with your role? It's different enough from Angel's Cordelia? I know that has been an issue for you, always playing a bitch.
Carpenter: You know what? That used to be an issue, but to be honest, I'm not trying to play the heroine chick anymore. I grew out of that. Now it's just about having fun.
TVGuide.com: After all, let's be frank — God didn't really design you to play the nice girl.
Carpenter: Not on television, anyway.
TVGuide.com: Has Kendall had her fun and is she now all done with Logan?
Carpenter: I don't know.... She's not very nice and Logan is the bad boy. Duncan was the sweet-as-pie boy.
TVGuide.com: Who would Charisma pick? What type do you gravitate toward?
Carpenter: [Sighs] Well, in high school it was the a--hole, and then as I got older I knew how to pick them better.
TVGuide.com: Your son, Donovan, is about to turn 3. What sort of "tricks" is he doing these days?
Carpenter: His tricks are "kicking the ball," "discovering insects" and talking about the "big giant monkey that's upstairs, sleeping" — and being careful not to wake him up....
TVGuide.com: I assume the "monkey" is Dad?
Carpenter: [Chuckles] If I said yes, my husband would die because that would give the impression that he is hairy, and he can't have that. [On a tangent] My husband has decided he wants to take up motocross, which is really pissing me off. I'm like, "What, are you going through a midlife crisis?!"
TVGuide.com: Better motocross than some chirpy 20-year-old.
Carpenter: What?! That didn't even enter my mind.
TVGuide.com: I know. How could it possibly?
Carpenter: How could it?
TVGuide.com: Hey, are you going to star in Wonder Woman? [Buffy creator Joss Whedon is writing and will direct a big-screen take on the superheroine, to be produced by Joel Silver.] What a great fit that would be.
Carpenter: I know! From your lips to God's ears... or Joss'... or Joel's....
TVGuide.com: Speaking of Joss, you're sort of known as the Buffy-verse alum who doesn't charge for autographs at conventions....
Carpenter: I just think it's wrong to charge — it feels sleazy and desperate. The only reason I would charge now is because there are [disadvantaged] kids who need assistance. I'm doing a convention [Wizard World Los Angeles] on March 18, and in this case I am charging, but everything is going to charity. So my fans will be helping out a very special kid, a 9-year-old quadriplegic who needs a specially equipped van. If I can exploit myself in a way that helps others, I'll do that.
TVGuide.com: So to everyone reading this: Go to the convention, get an autograph from Charisma and help that kid get a van.
Carpenter: Yeah!
TVGuide.com: I missed your recent Lifetime movie, Flirting with Danger. What was that about?
Carpenter: [In little girl voice] I was naughty... again. I'm such a hussy! I guess Veronica Mars warmed me up to be naughty.
TVGuide.com: What about Voodoo Moon [a feature in which a psychic woman and her brother hunt down a demonic being]? Will we ever get to see that?
Carpenter: I wish I knew what was going on with that. Eric Mabius (The O.C.) plays my brother, and I really loved working on it. It was a fun thing to do and it should appeal to the people who watched Buffy and Angel. It's got fighting and zombies....
TVGuide.com: What TV do you like?
Carpenter: I just started the Season 1 DVD for 24, because I have never seen any of it, and we just finished Season 1 of Lost. I tend not to watch shows while they're airing. I'll just wait for the DVD and watch 13 hours or so in one shot. That's the best payoff — you can just go to the next episode without waiting a week. I love Nip/Tuck, and I'm a huge fan of The Sopranos....
TVGuide.com: Someone sneaked me the first four episodes of this season's Sopranos. If you're nice to me, I'll share.
Carpenter: Are you in L.A.? No, you're in New York. That's not going to work. I would have come over! We could have hung out and shared popcorn.
TVGuide.com: Don't tease an old man. What else do you have going on?
Carpenter: I have three more episodes of Veronica Mars to shoot and it's pilot season, so I'm working my ass off to get a regular job. Hopefully by the end of the month I'll find out if I have one or not. If not, I'll have another baby or...
TVGuide.com: Another baby?
Carpenter: I'd like to eventually, but I want Wonder Woman right now. I'm not holding my breath but I'm crossing my fingers and toes and praying.
TVGuide.com: Well, I think that just about covers everything.
Carpenter: You think?
TVGuide.com: Well, save for a Q&A excerpt I stumbled across during research. You told Playboy that you once had sex at an Oscars party?
Carpenter: I said that?! Oh my god, I can't believe I said that on a public level.
TVGuide.com: Does the outside prospect of doing "that" become a factor when choosing a dress for the Oscars?
Carpenter: That's a very witty question, but the answer is no — you just make it work!
2.7.06 - Alexis Denisof will finally be joining his wife, Alyson Hannigan, on her CBS sitcom How I Met Your Mother. "He actually just did an episode of our show. It was so much fun," Hannigan told reporters last week during interviews for her film "Date Movie." She won't reveal who Denisof is playing on the show, but does allow that "it's very funny and actually, he's coming back for the next episode as well."
1.23.06 - Kristin at E!Online reports that she talked with Amy Acker last night... "[Joss and I] had dinner last night," Amy told me, "and he was still talking about doing the Spike movie." When I asked if she'd want to be a part of it, she said, "If it's Joss, of course I'll do whatever. I'll, like, be the costume designer! I don't care!" But for the time being, James Marsters is tied up with Smallville, so we shall see.
12.30.05 - The January 2nd isse of TV Guide magazine asked David Boreanaz what he's watching:
What are you watching? I watch lots of sports and classic films. And I'm a big home guy—I like to watch the Food Network and see people cook.
What's on your TiVo? I don't have TiVo. I don't udnerstand it! TV, for me, is a box. I turn it on and whatever is on, I watch.
What's the last DVD you watched? "Three Amigos." I have it in my trailer. It's a great, great movie. I'm an old-school kind of guy when it comes to comedy.
Who's your favorite TV character of all time? Sam Malone (Ted Danson) from Cheers is my favorite. He was such a charming and funny character. Cheers was a great show—they just don't make shows like that anymore. —Anna David
12.7.05 - From Michael Ausiello at TV Guide Online: Julie Benz (Darla) will be guest starring in the January 17th episode of Supernatural as Layla, a woman with a brain tumor who seeks out a definitely evil reverend known for curing the incurable.
11.28.05 - We may be seeing more of Amy Acker on Alias. The Angel alum has been replaced on CBS's mid-season series, The Unit, with Audrey Marie Anderson (Once and Again). Guess Acker won't get a chance to co-star with both Jennifer Garner and her ex, Scott Foley, all in one year.
11.21.05 - From Michael Ausiello at TV Guide Online: Rumor has it that James Marsters is taking a few weeks off from Smallville to shoot the straight-to-DVD spooker "Shadow Puppets." The Saw-esque thriller costars Jolene Blalock (Enterprise) and revolves around four people who wake up in an abandoned asylum without any previous memories or knowledge of their whereabouts.

Hass MS&L
Swiffer CarpetFlick/FOX
11.15.05 - FOX had a fall premieres party sponsored by Swiffer CarpetFlick, and one of the attendees was David Boreanaz, the star of the new FOX drama Bones. -->

Buffy the Vampire Slayer
by James Sorenson/WB
11.7.05 - TV Guide: Joss Whedon Cheers on Buffy's Alumni

by Michael Ausiello and Damian J. Holbrook

Think of the trend as "once more, with feeling." This TV season Buffy the Vampire Slayer alums are proving there's more to life than slaying vamps. Here, their old boss, creator Joss Whedon, weighs in on his old gang's brand-new gigs.

Alyson Hannigan
Past life: Bookworm-turned-Sapphic witch Willow Rosenberg. "[Buffy] led me to find my husband [actor Alexis Denisof, who played Wesley Wyndam-Pryce], and Joss Whedon is one of our best friends," Hannigan says. "But I'm happy to move on to the next chapter."
Post-Buffy: The decidedly hetero — and hysterical — Lily on CBS' How I Met Your Mother.
Joss says: "She's as breezy and funny as anybody I know. She's got this light sweetness about her that means she works beautifully in [a sitcom]."

David Boreanaz
Past life: Angel, the hottest vampire in the underworld, who stole Buffy's heart before scoring his equally sharp spin-off.
Post-Buffy: Seeley Booth, the hottest FBI agent in the world, on Fox's Bones. "He walks to his own beat," Boreanaz says. "Sometimes he gets slapped in the face, but he always ends up on top."
Joss says: "He would do subtle things, comedic things [on Buffy]. It's been gratifying to hear people say, 'Oh, he's really charming and he's got this different kind of chemistry and it's not just Angel at the FBI.'"

Charisma Carpenter
Past life: Cordelia Chase, the cheerleader who sidekicked it with Angel after he moved to L.A.
Post-Buffy: As seductive stepmom Kendall Casablancas on UPN's Veronica Mars, she's sexy and hilarious. "When I got the script about sleeping [with high-schooler Logan], I was like, 'This is juicy!'" Carpenter says. (Whedon himself shows up in the Nov. 9 episode as a rental-car manager.)
Joss says: "She's a stunner and can hit it out of the park."

Nicholas Brendon
Past life: Everyman Xander Harris, the quick-witted Chandler of the bunch.
Post-Buffy: Trading demon-hunting and Slayers for skirt-chasing and skillets as chef Seth on Fox's Kitchen Confidential. "The food is the most dangerous aspect of it," Brendon jokes.
Joss says: "It's a good place for him to be the funny guy. But I think part of what makes Nick great as the funny guy is that there's an edge to him. There's a lot of leading man in Nick."

James Marsters
Past life: Bad-boy vamp Spike, who went from offing to boffing Slayers during an affair with Buffy.
Post-Buffy: Going soulless again as Professor Fine, aka Brainiac, on WB's Smallville. "He is not concerned with a human version of morality," Marsters says. "He's Clark Kent's worst nightmare."
Joss says: "Much of his intensity comes from his relentless thinking, and for him to tap into that is very cool.... All of my alumni are taking over the world!"

10.24.05 - From the October 24th issue of TV Guide: Buffy Master Orbits Mars As if Veronica Mars didn't have enough nods to Buffy the Vampire Slayer—Charisma Carpenter and Alyson Hannigan both have appeared on UPN's cult hit—Buffy creator Joss Whedon pops in as a testy rental car manager in the November 9 episode. "I did [the scene] with Kristen Bell, who helped me get through my inability to act," says Whedon, a self-proclaimed Mars junkie. "Apart from that, it was somewhat unremarkable to anybody who wasn't me." Genuine modesty is so unbecoming.

10.17.05 - Zap2It.com: 'Angel's' Acker Dons an 'Alias' - The "Angel/Alias" connection continued on Thursday, Oct. 13, with the debut of former "Angel" regular Amy Acker on ABC's "Alias," playing Kelly Preston, a member of a rogue spy organization headed by the nefarious Gordon Dean (Tyrees Allen). More...

10.6.05 - Dateline Hollywood: Joss Whedon Grocery List Garnering Huge Internet Buzz a spoof news item on how a bunch of people want to turn Joss's grocery list into a television series.

9.28.05 - Joss Whedon confirmed to TV Guide's Michael Ausiello that Buffy: The Animated Series is unlikely to ever see the light of day. "[Dead] is a good word for it," he said. "I think dead and possibly buried. Or even cremated." There's lots more from Joss Whedon in this week's Ask Ausiello online column.

9.23.05 - Joss Whedon has inked a seven-figure deal with Universal to write and direct the fantasy thriller Goner. "It's the story of a young woman's journey that involves a great deal of horror and some heroics," he told Variety. "It's certainly darker than Serenity, and there are a lot of left turns along the way. It is something I had in mind for a while, and it just poured out of me when I finished my film."

9.21.05 - Joss Whedon will be doing a cameo in the sixth episode of Veronica Mars on UPN this season. He will apparently be playing a rental car company manager.

9.19.05 - Kristin at E!Online reports that Amy Acker will be guest starring in two episodes of Alias this season.

9.14.05 - Fox's new Tuesday lineup got off to a smashing start last night. At 8pm, roughly 10.5 million Angel fanatics followed David Boreanaz to Bones, making it Fox's best drama-series debut on the night in four years. -TV Guide Online

David Boreanaz by
Frank Ockenfels/Fox
9.13.05 - TV Guide: David Boreanaz Bones Up on Drama
by Angel Cohn
Cult fans may be disappointed that their favorite vampire, Angel, is cleaning up crime scenes on his new show instead of dusting evildoers, but David Boreanaz is happy to see the light of day. On Bones (premiering tonight at 8 pm/ET on FOX), he plays a gun-slinging FBI agent who is teamed with a forensic anthropologist to solve crimes involving damaged corpses. While the show is a bit more mainstream than Boreanaz' fantasy-infused past, the very sweet actor, who is reluctant to discuss his "other show," nonetheless hopes his fans will be willing to take a bite out of his new, nonblood sucking gig. (And trust us, Bones doesn't suck.)
TVGuide.com: You have a very loyal fan base. Do you think they'll get hooked on a forensics show?
David Boreanaz: All I can do is do my work. I don't think about that, I just think about the work. For those who don't like the show and were my fans in the past, I think they'll continue to be my fans because they are such loyal fans and they've supported me and I love them to death. One of the best things about the show that I was involved with [Angel] is that it was a very cult audience, but it also enabled me to fly a little bit under the radar in the mainstream.... But I can't please everybody. For every one person who doesn't like it there are probably going to be 10 people who will, so it is a whole new spectrum for me.
TVGuide.com: I think Bones should have a broader audience than that um, other show.
Boreanaz: I do, too. The forensics and the guns and the cars... it is has got a bit of everything. It's a bit of a throwback to Moonlighting, with a little of The X-Files thrown in. We're good to go.
TVGuide.com: What makes Bones stand out from the other procedurals?
Boreanaz: One of the things that appealed to me about this particular show was that Booth, the character I play, is a bit of a maverick — you are going to see that after the first episode. He's in his own world, and he goes by his own rules. I think the combination of him and Temperance (played by Emily Deschanel) makes for a real character-driven piece rather than just a forensic piece.
TVGuide.com: You and Emily Deschanel seem to have very good chemistry.
Boreanaz: That's what I hear. When we shot the pilot back in March, we were just starting to get to know each other, and she's such a sweetheart and such a humble person. She's the type of stock that is like the good slice of pizza I just had.
TVGuide.com: Well, you are in New York City; it is mandatory to have pizza.
Boreanaz: I had to have a slice. I'm off to Toronto, where we have a premiere of this movie I did called These Girls.
TVGuide.com: What is that about?
Boreanaz: I play a guy who is married and has a kid and lives in a small town and smokes a lot of pot. He befriends a 17-year-old girl and he has sex with her, and her two friends are jealous and they get in on the action. I deflower one of them — it is very funny — and they put me through this whole love triangle. It is very funny and very dark humor.
TVGuide.com: Are you excited to be back on TV with Bones?
Boreanaz: Doing an hour drama is like doing a sentence in [jail] in the middle of July with a bull in the cell with you — it is hard and it is long hours. But people are going to see a different side of me, which is good. I was happy that it got picked up.
TVGuide.com: Well at least your character's name isn't in the title. That's a bit less pressure.
Boreanaz: Yeah! I don't have to shoulder that burden. It is not on me this time, it is on "Bones" [aka Temperance]. I'll put it on her, and I'll just be on the outside talking smack.
TVGuide.com: Will we get to see a relationship between Booth and Bones?
Boreanaz: I think that will develop. The chemistry is there, and they have such high respect for each other's professions that they both need each other in a crazy way. It brings out this tension and kind of heat and conflict. It is an exciting thing for both of them. He looks at her and values her in a lot of ways — but she drives him crazy, and he knows how to push her buttons.
TVGuide.com: You are very funny on this show. Do you get to improvise at all?
Boreanaz: I do, and they kind of have to pull me back. I'm just one of those guys who is dying to be funny. They caught me at the right time in my life. They allow me to do that, but the words are great and the writers are fantastic. I do like to ad-lib around what is being said.
TVGuide.com: You seem like a pretty laid-back guy. How is it to go to work and put on a suit every day?
Boreanaz: It is pretty nice. I was very particular about the wardrobe he was wearing; it is not the regular garb. He's got the sniper belt buckle, he's got the thin '50s tie. It is a little homage to my man Steve McQueen.

Bones by
Frank Ockenfels/Fox
8.10.05 - TV Guide: Angel Is Back and He's Not Alone
by Ethan Alte
After a year away from the small screen, Angel star David Boreanaz returns to series television in Bones, a procedural drama that debuts this fall on Fox. Boreanaz plays Seeley Booth, a straight-shooting special agent who reluctantly becomes partnered with forensic anthropologist/novelist Dr. Temperance Brennan (Emily Deschanel) to solve crimes. The biggest difference between Seeley and Angel? The Fed actually gets to go out into the sunlight on occasion. Boreanaz and Deschanel spoke with TVGuide.com about the show, their on-screen relationship and... salad.
TVGuide.com: What attracted you both to Bones?
David Boreanaz: I just kind of fell into this role. I was fortunate to read a script and like it, but I was hesitant to get back into [episodic television] coming off a show that ran for so long. I met with [executive producers] Barry Josephson and Hart Hanson, but it was a horrible meeting and I kind of walked out of it feeling bad. I was just having a bad day in general. But the role was there for me [to take], and I really liked the character. I'm really excited about all these characters, every one of them. My sister made an observation: You want to know more about each one of the characters just by looking at them.
Emily Deschanel: It's an incredibly intelligent show and it's character-driven. The script was very ambitious, trying to do so many different things, and I believe it really accomplished all of those things. It crosses genres and it's exciting when you read something different like that.
TVGuide.com: Obviously, prime time these days is filled with procedurals. What will set Bones apart?
Deschanel: I've always been fascinated by the whole forensics thing, but this show doesn't have a cold feeling to it. It's more about the characters, and I love that.
Boreanaz: There are crimes to be solved in every episode, and there will be personal attachments to them. There is a lot of conflict and, down the road, I think there will be some story arcs. Early on, with any startup, show you're really building credibility and making it stand on its own. You want to give viewers what they want at first.
TVGuide.com: Emily, your character is based on a real person, forensic anthropologist and author Kathy Reichs. Did you get the chance to meet her before filming the pilot?
Deschanel: She was there on the first day of filming, and I was so excited to meet her that I gave her a hug! I don't think she was used to that kind of casual openness. She's an amazing woman, so smart, and incredible at what she does. She was very sweet to talk with me and answer questions about herself. It's a great resource to have someone there who has the same job as your character. I asked her questions like, "Does being around dead bodies bother you?" and she said no. I think I would have a problem! As much as I'm fascinated by forensics, if I were really doing it, I think I'd get sick every time.
TVGuide.com: Actors in procedurals often complain about having to memorize all the technical jargon. Has that proven difficult for you as well?
Boreanaz: Oh, I hate it. [Laughs] It takes me a while to sit down and memorize the lines. But the good thing about this show is that there's another person there for you, which is so important. You're going to get through it one way or another but sometimes you do it and you don't know what the hell you've done; you feel like it's horrible. But then it comes out really great.
Deschanel: We have an amazing group of people working on the show. We're all good at what we do and we get along very well. I've been reading different books on forensic anthropology and trying to retain that knowledge. The more you read up on it, the more it becomes part of your vocabulary. It's like learning a foreign language.
Boreanaz: See, it's the exact opposite for me, because all [Seeley is] concerned about is getting his coffee. [Laughs] My character is very streetwise, and I kind of butt heads with [Emily's]. So the less I know about her language, the better I can react to that.
TVGuide.com: You seem to get along really well. What's the best part about working with each other?
Boreanaz: It's ever-changing; there's something new every day. From my perspective, you respect everyone no matter who they are. There are going to be times when we butt heads, and that's normal.
Deschanel: What are you are trying to say? Are you going to fight with me? [Laughs]
Boreanaz: Emily's cool. She has a similar background to mine; we've been around some great people and we both understand that people are people. We adapted to each other very quickly. We respect each other as people, not characters. I knew that I liked her right away when we did a read. She came in and took command of the room and made me get up and we went for it. Outside afterward, we were talking and she talked about the process and she said it in a way that was intriguing. I was like, "This woman has got some moxie behind her."
Deschanel: David always makes me laugh, that's the best thing about him. When I met David, I thought he'd be so intimidating, but I walked in and he was smiling and so friendly. He makes me feel so comfortable, it's really easy to work with him. I feel we can talk about things and work things through... I feel like I had something else I was going to say...?
Boreanaz: "Salad."
Deschanel: Salad?
Boreanaz: Just say salad.
Deschanel: OK, salad. I like salad. [Laughs]
TVGuide.com: Finally, David, the obligatory Angel question: Do you think you'll be returning to the character anytime soon?
Boreanaz: The only way it would work for me is if it was a full-length feature film directed by Joss Whedon or Tim Minear or David Greenwalt. It would have to be on an upper-scale level, not a TV thing. Maybe Broadway, but not a musical. More like a Sam Shepard play. [Laughs]
7.25.05 - James Marsters will be on Smallville next season in the recurring role of Brainiac.
7.21.05 - Zap2It.com: Press Tour Tidbits: Willow vs. Xander vs. Angel - The fall TV schedule will have a distinct Sunnydale feel to it. Alyson Hannigan (CBS' "How I Met Your Mother"), Nicholas Brendon (FOX's "Kitchen Confidential") and David Boreanaz (FOX's "Bones") are all starring in new shows, while Charisma Carpenter has landed a recurring part on UPN's "Veronica Mars." More...
7.15.05 - Charisma Carpenter is joining Veronica Mars this fall as a sexy trophy wife and stepmother to brothers Dick and Beaver Casablancas. She'll appear in at least six episodes.
7.14.05 - Amy Acker has been dropped from the cast of The Unit, which will air on CBS this fall.
7.8.05 - Kristin at E!Online writes about fall shows starring some of your old favorites from Buffy and Angel.
5.19.05 - David Boreanaz's new show, Bones, will premiere on FOX this fall.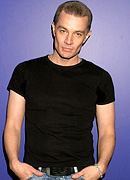 5.4.05 - From TV Guide Online: Buffy's James Marsters: Rock Star?
by Ben Katner
If your fantasies involve being serenaded by a vampire, you're in luck. James Marsters — beloved as toothsome Spike on Buffy the Vampire Slayer and Angel — has just released his first solo CD, Civilized Man. If only he could have produced the album without leaving a trail of carnage in his wake....
You see, before entering the studio on his own, the actor went on a highly successful tour of Europe with his band, Ghost of the Robot. "I believe it was our third time over there, and we'd gone from playing houses of hundreds of people to playing for thousands of people. Not tens of thousands," he clarifies quickly for TVGuide.com, "but you know, three, four, five."
Nonetheless, the lead vocalist saw the blood... er, the writing on the wall. "The chemistry of the band changed," he says. "I think we started taking ourselves too seriously, frankly, and it stopped being fun for me." What's more, he adds, "The songwriting coming from the other members of the band was way too high for my voice. So I broke up the band after a very successful tour!"
Marsters laughs at the irony, but he's dead serious. "We were just about to finish up our second album, which was sounding really good compared to our first, but I pulled the plug."
Afterward, the frontman who no longer had anyone behind him returned to Europe. "Just me and a guitar, man, which was terrifying!" he exclaims. "I'm not Woody Guthrie! I didn't believe that I could stand up in front of 500 to 1000 people with one instrument and bring enough different kinds of sounds to pretend that I was really entertaining people for a whole hour.
"But it went really well," he adds, relieved. "People responded that they liked that set better than the band's. I'm sure not everybody felt that way...."
Yeah, his ex-bandmates from Ghost of the Robot, for instance. "Probably not," he admits with a laugh. "But they're all good people, and we're on good terms. It's just, stuff for [the band], I was a little reluctant to let people hear, because a lot of it was beyond my range [vocally], and I didn't feel as if it was good enough to be called professional. But now [with my new material], I do. Some of it you'll probably like, some if it you won't.
"I guess at the end of the day," he concludes, "the best thing about the whole process is that I feel more confident about myself as a musician, which is probably what you're looking for when you do something like this in the first place."
To order Civilized Man, visit James Marsters' website.
4.1.05 - Christian Kane has joined the cast of Jennifer Finnigan's CBS drama pilot, American Crime. No details about his character have been made available.
3.14.05 - The Unit, a pilot for CBS, has added Amy Acker to the cast. The Unit is about the lives of the people and families in a Special Ops unit. Other cast members include Robert Patrick, who joins Scott Foley, Regina King, Dennis Haysbert, and Michael Irby.
12.29.04 - The MSN Entertainment staff wrote about the best and worst television of 2004, and called Angel one of the best dramas. The "Buffy" spin-off carved out its own, increasingly audacious and even whimsical universe before taking its final bow in season five.
11.1.04 - The Hollywood Reporter reports that David Boreanaz has been cast in a new ABC drama project based on the life and times of Jack Ballantine, undercover cop in the world of hired assassins (Warner Bros. TV/Tannenbaum Co.).
10.26.04 - Charisma Carpenter is going to play Heather Locklear's sister in the Thanksgiving episode of NBC's LAX. She's playing Julie Random (Harley's sister). Harley left home when she was a kid, so this is a reunion. Naturally, as this is TV drama, there will be plenty of it when Julie invites their parents to come for Christmas. The show's NBC rep says Carpenter will be on for just one episode, but it's possible she may return (since she is family).
10.25.04 - Joss Whedon, is getting out of the TV business — at least for the time being. According to Variety, Whedon has shuttered his Mutant Enemy production company because he says he has run out of ideas. "I spent a lot of time trying to think what my next series would be," Whedon said. "I couldn't think of anything. When that happens, it generally means something is just not working." For now, Whedon will continue to focus on features — including the forthcoming Firefly flick, "Serenity." What does all this mean for the proposed Buffy cartoon? Apparently that remains on the drawing board.
10.11.04 - James Marsters will be appearing on the November 3rd episode of The Mountain (oh, no, now I might actually have to watch that show). He will play the father of a character named Penn Badgley, and the WB says there is a chance he could be a recurring guest star.
9.17.04 - Reuters reports that David Boreanaz and Henry Thomas are heading to "The Hard Easy," an indie film shooting in Los Angeles. The story centers on two men who attempt to rob a jewelry store on the same day. Boreanaz plays Roger, an unlucky, unethical stock trader and Princeton graduate who agrees to rob the jewelry store with a team in order to cover losses that could put him in jail. Thomas ("E.T. - the Extraterrestrial") plays Paul, a lowlife gambler who is attempting to do the same thing in an effort to pay off his gambling debts. Vera Farmiga ("The Manchurian Candidate") will play an attractive, worldy woman who is trying to get revenge on Paul for her father's death. Bruce Dern ("Coming Home") will play a former military man who is part of the robbery team. The project marks the feature directorial debut of Ari Ryan.
9.16.04 - A rumor from TV Guide Online: there's increasing chatter that Joss Whedon is in talks to replace Bryan Singer at the helm of "X-Men 3." Singer recently signed on to direct the new "Superman" flick, leaving the fate of the next X-Men installment up in the air. Whedon's camp isn't commenting on the buzz.
9.14.04 - The latest news on Angel movies from Kristin at E!Online: "Charisma and David both don't want to do it, from what I hear. James Marsters is definitely on board, however. And this just in from moviehole.net: 'The last few weeks there's been a rumor floating about David Boreanaz doing something with a Four in the title. Everyone assumed people were talking about Jurassic Park 4. Not so. The role Boreanaz was actually referring to was in The Fantastic Four. Apparently the Angel star came close to snagging the role of Ben Grimm/The Thing in the film, but Michael Chiklis was the winner at the end of the day.'"
8.26.04 - TV Guide Online: Charmed Gets Charisma
Charisma Carpenter is best known from her popular stints as Cordelia Chase on Buffy the Vampire Slayer and its spin-off, Angel. What's she been doing since both vampire shows bit the dust? Last year, she gave birth to son Donovan Charles (who's now 16 months old). Then this June, the 34-year-old Hollywood mom reclaimed her va-va-voom by posing nearly nude in Playboy. She'll continue her hot streak by guest-starring as a sexy seer on Charmed in at least two episodes. (Her first appearance airs Sept. 26.) Last week, TV Guide Online visited the Charmed set to watch Carpenter torment costar Brian Krause (Leo) with her spooky predictions. We also stole some time to dish between scenes.
TV Guide Online: David Boreanaz recently told TV Guide he'd be willing to do Angel feature films, but not TV-movies. Could Cordy make a return from the dead someday?
Charisma Carpenter: I read that snippet about David in TV Guide! You know, I'm not interested. Not because of David or anyone I worked with. I think we're all just done. I don't think my fans should be offended because they're not Angel or Buffy specific. They've proven over time that they'll follow me no matter what I do, so I'm not afraid of taking anything away from them and I hope they wouldn't feel that way.
TVGO: Cordy was psychic on Angel. Now you're a seer. What's up with these ESP roles?
Carpenter: Another psychic! At least I'm not in a coma on this show. They're both sassy girls, but this character is more of a temptress than a smartass. She's toying with Leo.
TVGO: Does your character have a name?
Carpenter: She's just "Seer." We'll see if we see more of her before she gets a name!
TVGO: Might you do more than two episodes?
Carpenter: I'm happy to do more. It would depend on whether my pilot is picked up. I'm thrilled to be here because I have a relationship with Holly Marie Combs (Piper). We did my ABC Family movie See Jane Date together and we're both new moms. It's also interesting to be back doing this supernatural genre. I know it and it's familiar.
TVGO: How about this pilot of yours?
Carpenter: It's a possible midseason replacement sitcom for UPN. It was called Play Nice, but now it's called Like Cats and Dogs. I'm the girl on the show, and it's about my life with my fun-loving brother [played by Canadian actor Tyler Labine]. I'm an uptight lawyer and he comes to live with me and my houseful of dogs.
TVGO: If the sitcom didn't happen, wouldn't it be fun to join Charmed as a regular?
Carpenter: I think working with girls would be great, especially since Holly's a mom and a producer. The only reason I would hesitate is that the shooting schedule of a one-hour drama is a lot for a new mom. It'd be great to work with her, 'cause she gets it. So yeah, I'd definitely be open to talking about it.
TVGO: By the way, many mothers might be envious of your having a baby and then doing Playboy!
Carpenter: That came about because I had a baby and got so bloody fat. I gained 50 pounds. I needed something to motivate me to get my butt in shape. It's vanity, really. Right after I signed the deal with Playboy, I did hard-core training for 20 days.
TVGO: Any hesitation about posing for the lad mag?
Carpenter: It was all very agreeable and they allowed my husband to be on set to make sure everything was cool, and it was. I'm really pleased with the photos and I don't have any regrets. I expect there are people out there who would hope that I would. They may judge me, but I'm not feeling regret right now. I guess I'll cross that bridge with my son when I come to it....
TVGO: You appeared topless, but the photos weren't raunchy.
Carpenter: I felt good about it. I figured if I did films, I'd have to show my breasts at some point. Why not take beautiful pictures for posterity while I'm young?
TVGO: Your midriff-baring outfit on Charmed will be memorable, too!
Carpenter: The Seer's like a jezebel. Women on Charmed have to look hot. That's the sense I'm getting. Every single one of [the witches] are notoriously sexy women!
by Daniel R. Coleridge
8.23.04 - Charisma Carpenter will be appearing in two episodes of Charmed this season, airing on September 26th and October 10th, as The Seer.
8.23.04 - Kristin at E!Online says that according to sources at the Frog net, WB boss Garth Ancier is still pushing for the WB to do at least one Angel TV movie this season, possibly a few, focusing on individual characters. Since David Boreanaz is not expected to sign on, I'm told James Marsters (Spike) is getting "the most buzz."
8.18.04 - TV Guide Online: Boreanaz Keeps Angel Alive
Rumors that David Boreanaz is not up for an Angel movie are utterly bloodless. The ex-vamp is willing to take another turn at bat, but not on the tube. "It would have to be a theatrical release," he tells TV Guide Online. "I'm not into the movie-of-the-week [idea]."
Last month at the Television Critics Association press tour, WB execs remained hopeful that Angel would someday be reborn into a series of small-screen flicks. But network chairman Garth Ancier conceded that it would take "a little coaxing" to get Boreanaz interested. "I know they wanted to do, like, six films," Boreanaz says, "It's not that I'm against it; it just needs to be a bigger challenge. When you do something for five seasons, you want to continue to challenge yourself... go to another level with it rather than just doing the same thing you've been doing."
With that in mind, Boreanaz recently shot the title role in the big-screen comedy Mr. Fix It. "It has a very '80s romantic theme to it," he says. "I'm going to be doing some dancing, singing... it's going to be a lot of fun." He's also in talks to co-star in a high-profile franchise flick that he insists is not Superman. "It's better," he teases, adding, "'Four' would be the magic number — that's all I'm going to say." (Our guess? It's the in-the-works fourth Indiana Jones pic.)
In the meantime, "I'm really having fun with leaving the show and doing roles that are, for me, expressing what I love to do," Boreanaz says. "[It's great] not being tied down to a series for nine months out of the year. It really is refreshing to see myself going into another arena."
by Michael Ausiello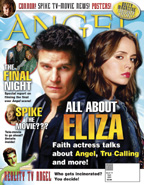 8.5.04 - Angel magazine, by Titan Publishing in the UK, is out as of August 5th. Included in this issue is the second part of an exclusive interview with Eliza Dushku, a feature on the filming of the final episode, the latest word on the possibility of Buffy/Angel TV movies, an episode guide for the 4th season, and Angel Eye, which is what would happen if all of the characters were locked in the Big Brother house. To subscribe, call 01536 764 646 (yeah, in the UK), or email angeluk@titanemail.com.
8.3.04 - Kristin at E!Online reports that Joss may be doing some Buffy-related movies of the week for the WB, but Sarah Michelle Gellar and David Boreanaz have both said that they're not interested in participating.
7.15.04 - At the Television Critics Assoc. press tour yesterday, WB chairman Garth Ancier said that special Angel movies remain a possibility, although it'll probably take some "coaxing" to get David Boreanaz interested. In addition, Ancier hinted that Angel might still be with us today, had producer 20th Century Fox given the network until May to make a final decision. "We [were forced] to make the decision early based on their request." (Thanks to Michael Ausiello of TVGuide.com for this info.)
6.30.04 - From the July 4th issue of TV Guide: Dog's Best Friend
Since Angel was canceled, David Boreanaz's career has gone to the dogs–literally. PETA (People for the Ethical Treatment of animals) has recruited the actor to appear in a new public-service campaign urging pet owners not to chain their four-legged family members in the yard. The ad will break in September, after sunset.
6.23.04 - Elisabeth Rohm, who used to be on Angel as Detective Kate Lockley, is leaving her role as ADA Serena Southerlyn after the first 13 episodes of Law & Order next season.
6.18.04 - TV Guide Online reports that David Boreanaz has landed the title role in the big-screen romantic comedy Mr. Fix-It. Directed by Darin Ferriola (Soulkeeper), the film -- which starts production today -- revolves around a lovelorn bachelor who runs an agency that helps guys repair their broken relationships. While working on a case, he ends up falling in love himself (with Alana De La Garza, soon to be seen on WB's new fall soap The Mountain). "It has a very '80s romantic theme to it," Boreanaz says. "I'm going to be doing some dancing, singing... It's going to be a lot of fun."
6.7.04 - Andy Hallett (Lorne) recently had a viral infection, collapsed and was rushed to the ICU, where he stayed for five days. The infection affected his heart, giving the 28-year-old a mild heart attack. Andy is now back home and resting. You can see a message from Andy at his web site, andyhallett.com, and you can send him a get-well message at: getwell@andyhallett.com. Please, keep him in your thoughts. He truly is one of the good ones.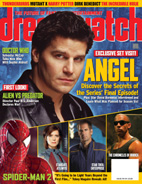 5.26.04 - David Boreanaz chats to Dreamwatch Magazine about the end of the heroic vampire's crusade against evil, while executive producers Jeffrey Bell and David Fury reveal the truth behind the show's controversial finale. Plus, Dreamwatch visits the Angel set during the making of the show's last-ever episode, Not Fade Away! All this and much, much more in dreamwatch Issue #118! ON SALE 27 MAY (UK) 15 JUNE (US)
5.20.04 - From TV Guide Online: Angel Creator's Finale Post-Mortem
There are many ways to describe last night's series finale of Angel. Heart-wrenching (Wes kicked the bucket! And died in Illyria/Fred's arms!), action-packed (that Angel vs. Hamilton throwdown), hilarious (Spike reading his terrible love poem — which all die-hard fans know we first heard in the fifth season of Buffy — to a rapt audience of tough guys) and thrilling (the final charge before the closing credits) all fit the bill. But whatever you do, don't call it a cliffhanger, even if Angel and his surviving crew were still fighting as the episode ended.
"The word 'cliffhanger' is really a misnomer here," series co-creator Joss Whedon stresses to TV Guide Online. "This was not the final grace note after a symphony, the way the Buffy finale was. We are definitely still in the thick of it [at the end]. But the point of the show is that you're never done; no matter who goes down, the fight goes on.
"Did I end it this way so that it could lead into an exciting sixth season? Yes, but this is still a final statement, if that's what it needs to be."
Ah, but was this episode actually the "final statement" for the beloved Buffy and Angel universe? Rumors have been rampant about a spinoff show or a series of made-for-TV movies popping up within the next year. According to Whedon, however, nothing will happen anytime soon. "The TV-movie idea was suggested," he says. "And the studio said they'd be interested in that, but I haven't heard bupkes since then."
It's not as if Whedon has the time to devote to another Angel-related project right now, anyway. In June, he starts production on Serenity, the feature-film version of his short-lived Fox series, Firefly. It's due out in 2005. He's also penning 12 issues of the new Marvel Comics title Astonishing X-Men, the first of which hits comic-book stores next Wednesday.
Still, Whedon says he's not closing the door entirely on the Buffyverse. For one thing, he's been talking with Dark Horse Comics about reviving the canceled Buffy comic book and possibly making it a permanent part of the Buffy canon. He also says he had many more stories to tell about the Angel crew ÷ citing the sexy character of Illyria, in particular, as someone he wished to spend more time with. "The cancellation was a horrible blow," he admits. "Basically, we were told that we were old and in the way, [even though] ratings were higher than what they'd been."
Whedon takes some comfort in knowing Angel aficionados feel the same way. "I was enormously touched by the fan response," he says. "For them to react that strongly to what had always been perceived as the bastard child of the Buffy franchise was really important to me.
"I think the show was cut down in its prime," Whedon laments. "I do feel like we finished the series off saying what I wanted to say in a grand fashion. But I don't have the feeling I had with Buffy, which is, 'We are done. Thank you, goodnight.' It's more, 'Okay, the lights are off, I'd better leave.'"
For Whedon, what makes the end even harder is that he'd already conceived a terrific premise for Angel's sixth year. "When you buck the system, and do your best to make it collapse," he teases, "what if it does? The next season would have been some serious chaos." Now, that sounds like a story that deserves to be told someday.
5.19.04 - Moviehole: Moviehole says Goodbye to TV's Angel - Sniffle. Sniffle. Boo Hoo. Wolfram and Hart is only hours away from closing its doors. How about just one last cup of Joe before you push us out the laundry shute? No?....
5.19.04 - CNN: 'Angel' fans, time to let go - There are some things I wouldn't wish on anybody. And being an undead person approaching 300, doomed to spend eternity ruing past evils, nearly getting vanquished daily, never getting to enjoy certain pleasures, and being prone to sprouting fangs is one of them....
5.18.04 - Zap2It.com: Whedon's 'Angel' Goes Down Fighting - Here's a one-line summary for Season 6 of "Angel," courtesy of series co-creator Joss Whedon: "If you buck the system and do your best to make it collapse, what if it does?" Unfortunately for fans of the show, Whedon's question will remain a rhetorical one. "Angel" ends its five-season run on The WB Wednesday (May 19) as the vampire hero (David Boreanaz) and his cohorts, after a season of trying to do good from the inside of demonic law firm Wolfram & Hart, make one final stand against evil....
5.13.04 - From TV Guide Online: A Comeback for Spike?
In next week's Angel series finale, Spike wonders how to spend what could potentially be the last day of his undead life. So the platinum-topped vamp Spike chooses to spout poetry at a seedy bar. For his portrayer, James Marsters, playing live music would more likely top the final to-do list. The California-bred actor moonlights as lead singer of his rock band, Ghost of the Robot. On the final night of his Angel duties, he happily previewed two new tracks for us in his trailer. "I think this is the best song I've written so far," he said proudly of one acoustic ballad. Soon, he'll embark on a European tour with the group, but don't fret, Spike fans: Unlike co-star David Boreanaz, he's not ready to stake his signature role just yet.
TV Guide Online: How does it feel to shoot the last day on a series?
James Marsters: Good. Television often is an exercise in frustration, just because time and money are forcing you to work faster and make more compromises than you want to. You go into your trailer and punch the wall a lot. There are some [dents] over there, though my Buffy [trailer] was even worse. But I find that all the frustration has sort of fallen away the past couple of days, and we're just left with the fact that there are some really good people working here and some really good scripts to work on. It's been a good job.
TVGO: This is the second show you've said good-bye to in a year. That's got to be weird.
Marsters: Yeah, but I'm used to endings. I'm from theater and we're used to things being wonderful or horrible and then, inevitably, over. You get to the point where you come to peace with that. I kinda like when everything goes away and the space is empty again.
TVGO: Which was easier &$151; the end of Buffy or Angel?
Marsters: This one's easier, less intense. I haven't been here as long. I just have a real sense that it's the end of a really great ride, and possibly not the end. There's talk of other stuff going on.
TVGO: So you'd be open to playing Spike again?
Marsters: I would love to come back to the character. I'm hopefully gonna start to play more human beings. I wanna play a doctor or someone who was never set on fire, who was never stabbed. That would be nice. But it would also always be cool to come back and be the bad-ass for awhile. But I do think there's a clock ticking. Spike's a vampire. He's not supposed to age! So I think there's about a five-year moratorium. I don't want [creator Joss Whedon] to have to come up with something like, "Oh, if you don't drink human blood, you do age."
TVGO: How often have you had to dye your hair? Bet you look forward to laying off the peroxide for awhile.
Marsters: Oh yeah. We touch it up every episode. I can audition my head off, and I only ever get called back for drug addicts and rock stars, and I'm tired of it. It'd be nice to just look like me again. My own self-image is with brown hair. It'd be nice to have that looking back at me again. [Editor's Note: On April 27, he shaved his head live on On Air with Ryan Seacrest. Proceeds raised from fans who bid money for a lock of the bleached-out hair were donated to the Elizabeth Glaser Pediatric AIDS Foundation.]
TVGO: I see you have an empty "Save Angel" candy-bar wrapper lying around.
Marsters: Yeah, I ate the chocolate!
TVGO: What do you think of fan outrage over the cancellation?
Marsters: It's felt really good. I always joke that I spend so much time making the show that I'm surprised to find out people watch it, but that's really true. The thing I love about theater is the interaction between the audience and the actor. I've missed that. This outpouring feels like a little of that response. And it's not wasted effort. If it doesn't save the show, it [still] means that any project that comes from this universe will be paid more attention to. If there's a movie, it may get a bigger budget.
TVGO: Are you happy with how the show is ending?
Marsters: Oh yeah. This was [going to be] the ending of the season, prior to us getting canceled. It was gonna be a great lead-in to next season. Now, it's serving as the end of the series. It doesn't have the big computer visual pop that Buffy did because frankly, Buffy had a much bigger budget. But it's a good ride, and it's really thematically satisfying. Heroes in Joss' world stumble and make mistakes, but they keep trying.
TVGO: That's a good message to go out on.
Marsters: Yeah, man. We're having a good end of the season. Let 'em cancel us! But we're gonna be so good that you will secretly in your heart be sorry! [Laughs] But hey, man, no sour grapes to the WB. Seriously. They've paid for my car, you know?
by Shawna Malcom
5.12.04 - From TV Guide Online: Boreanaz Bids Angel Adieu
Angel may be a tortured 245-year-old vampire with a soul, but his portrayer, David Boreanaz, is about as angst-free as actors come. As series creator Joss Whedon once told TV Guide, "David takes things in stride, and those of us who don't know how to stride are confused." During a break in shooting Angel's series finale (airing May 19 at 9 pm/ET), the ever-cool 33-year-old actor discussed why he's relieved to see his 5-year-old WB drama bite it, how he feels about star-crossed love Buffy's (Sarah Michelle Gellar) absence, and the chance he'll resurrect Angel for those rumored TV or DVD movies.
TV Guide Online: How did you get the cancellation news?
David Boreanaz: Joss came to set and told me. I said, "OK, fine." There were no tears. There was just a moment of congratulating him on a successful run of five seasons.
TVGO: You weren't at all upset?
Boreanaz: I don't wanna sound like I was cheering, but when Joss broke the news, it was almost more like the burden of pressure came off me after five years. I mean, it's a lot of responsibility [carrying a show], and you don't realize how much that is until they say it's done and then you can breathe. So there's some really nice light that came into my life. I'm in a really great place about it.
TVGO: Most actors would be stressing about being out of work.
Boreanaz: It's not worth it to get too stressed. [Laughs] What can I do, man? Look, it's a f---in' show, and it was a great experience. I think we can be very proud of what we've accomplished. Now, you just move forward.
TVGO: Your fans are having a harder time doing that.
Boreanaz: Yeah, it's a disappointment for them. They've been so into the show this year. For them, I think it's a really bad thing. But this kind of stuff happens everyday, and I think you have to realize that.
TVGO: What did you think of their "Save Angel" campaign?
Boreanaz: I think it's very cool. It's a really good testimony to how strong the show is and how committed they are [to] the universe Joss created.
TVGO: A lot of us were disappointed to hear Sarah won't pop up in the finale. How do you feel about it?
Boreanaz: You know, I went over to her finale and she said she would come over to mine. It would've been nice to have her over here. I guess it was Joss's decision. He wrapped it up the way he wanted to. I'll just leave it at that.
TVGO: What do you think of how the show's wrapped up?
Boreanaz: I'm comfortable with the way they're ending it. It's very open-ended. The title of the episode is "Not Fade Away," which I dig [because] that's a Grateful Dead tune. It goes out fighting, which I think is great.
TVGO: There are rumors we haven't seen the last of Angel, that there might be some TV or DVD movies in the future. Would you come back to the character?
Boreanaz: [Laughs] I don't think I will, no.
TVGO: Seriously?
Boreanaz: Yeah. The only way I would do any kind of loose-end wrapping up would be if the pieces were right, and if they decided to do it on a different, higher level, like a film. Joss is doing Serenity [the feature based on his 2002 short-lived Fox series Firefly], and we'll see how that goes for him. If they decided to do that with Angel and if the pieces were right, fine. But you never know where everyone is in their lives at that moment.
by Shawna Malcom
5.7.04 - Zap2It.com: 'Angel's' Kane Rocks Chicago - The bands play on in the "Buffy"-verse. Adam Busch, who played the evil nerd Warren on "Buffy the Vampire Slayer," has a pop/folk band called Common Rotation. James Marsters, who has played the vampire Spike on both "Buffy" and its spin-off, The WB's "Angel," has a rock band called Ghost of the Robot. And Christian Kane, who has a recurring role as conflicted lawyer Lindsey McDonald on "Angel," has a country-rock band called Kane....
4.28.04 - Kristin at E!Online reports that the WB has approached Joss Whedon about doing movies, but so far, nothing has been decided. He has a lot going on with the Firefly movie, and the network execs are putting together the fall schedule, so it may take some time to iron out any sort of deal.
4.27.04 - Zap2It.com: 'Angel's' Spike Makes a New Friend by Kate O'Hare
There was love (of the professional, not romantic, kind) blooming on the set of The WB's "Angel" during production for its 20th episode this season, "The Girl in Question," airing Wednesday, May 5.
After co-creating the drama about a crusading vampire with a soul with Joss Whedon and being an executive producer for its early seasons, David Greenwalt -- who also worked with Whedon on "Angel's" predecessor, "Buffy the Vampire Slayer" -- returned to direct "The Girl in Question."
Although he and James Marsters, who plays Spike, the other vampire with a soul, had technically been on "Buffy" at the same time (Spike moved to "Angel" this season after the "Buffy" finale), the two had never met.
"He was writing when I was there in my first season," Marsters recalls, "but I was just a guest star, and I had no reason to go up to the writers' offices. I didn't go to the gods at that point."
The long-delayed meeting didn't appear to have been a disappointment for either man.
"He's so fabulous," Marsters says. "Greenwalt is just an exceptional director. I can imagine it's the same for him producing, too. He knows how to inspire people and get the best out of them. He's very decisive about what he wants to do, but up until that point, he's very open to people talking."
Greenwalt returns the compliment, saying, "He's really good. He's really gifted. He's an actor's actor. He sinks so deep into the stuff. It makes him a good guy, a good human. He's working hard on his stuff. Just watching him inspired me to two series ideas."
Of course, as "Angel" is ending this year, Marsters might be available for another series, and apparently it's something he's thinking about.
"We started talking about ideas that would be interesting for a series," Marsters says. "In about three days, we came up with something that was really fairly interesting. I don't know if it would fly, but it was just wonderful to feel the interest.
"Also, there were a couple of phone calls where I had a bunch of ideas the night before -- some of which he hated and some of which he really liked -- that we were talking about. It was wonderful to be in that kind of collaboration. I haven't had that since I was an artistic director of a theater. I like doing that."
In "The Girl in Question" (those in fear of spoilers should stop now), Spike and Angel (David Boreanaz) head to Rome, believing they must rescue Buffy (Sarah Michelle Gellar) -- their mutual ex-girlfriend -- from their old nemesis, The Immortal.
"It's sort of Rosencrantz and Guildenstern go to Rome, two idiots," Greenwalt says. "Angel is going to send Spike to Rome to pick up the head of this demon. At the same time, we learn that Angel has had people watching Buffy and watching her apartment. He gets a call that she's in trouble. She's been seen in the company of this character called The Immortal.
"You learn, in the course of the show, that the Immortal has bested them down through the last several hundred years. He's cooler than a vampire."
All this information is revealed in flashbacks, which feature guest appearances by the two other women from Angel and Spike's past, the vampires Darla (Julie Benz) and Drusilla (Juliet Landau).
The one woman not seen is Buffy. Although hopes were high that Gellar could make a guest appearance, it couldn't be worked out in the end, so Buffy is only seen at a distance.
"Way across the dance floor," Greenwalt says, "you see this blond girl dancing .. this blond hair moving in slow motion."
Also making a guest appearance is former Buffy cohort Andrew (Tom Lenk), now an apprentice Watcher.
"What a funny, funny guy," Greenwalt says, "his little twists and turns he does. He walks in wearing a fabulous James Bond tuxedo in the middle of all this. It's so great.
"I was happy to do that episode. I felt I went out with a bang there."
4.23.04 - TNT Drama Lounge: James Marsters on Buffy: How Spike buffed his ego - A funny thing happened to James Marsters on his way to television stardom. The actor, who's well known to Buffy the Vampire Slayer and Angel viewers as Spike, trekked to Los Angeles in the '90s with one goal in mind. "I came to make good money," he admits. "The idea was to make a quarter of a million and get out." Financial gain was the only reward he believed he'd reap -- and he was fine with that. "I'd done my artistic thing in the theater. I had already found out who I was as an actor. But you reach a stage in life where you say, 'I don't want to be poor any more....'"
4.21.04 - On April 27th, James Marsters will shave his head live on On Air with Ryan Seacrest in order to raise money for the Elizabeth Glaser Pediatric AIDS Foundation.
4.16.04 - Kristin at E!Online: Fan Fervor Runneth Over to Save Angel--See What Good Has Come of It - I used to consider myself the most die-hard TV fan on the planet. It was a badge I wore with pride, sorta like my "I heart Bo & Luke Duke" T-shirt back in the good ol' days of the good ol' boys. (Sigh.) But you "Save Angel" folks put me to shame....
4.12.04 - UPN has ordered a sitcom project that will star Charisma Carpenter and Tyler Labine as siblings, from Paramount Network TV, Littlefield Co., and Nervous Properties.
4.5.04 - From TV Guide: Touched by Angel Fans - A Worldwide Outcry Over a Show's Demise by Matt Roush
Thanks to WB's cancellation of Angel, I now have an amazing postcard collection: at last count, 1100 from unhappy fans in nearly every state, all over Canada and England, plus 20 other countries, including Australia, New Zealand, Turkey, Brazil, Poland, Italy and Germany.
I'm not sure if any are written in blood, but they certainly show a lot of heart. As cult followings go, Angel's is pretty awesome.
Several Internet-driven fan campaigns, hoping to persuade WB (against the odds) to cancel the cancellation, have raised money to buy ads in trade papers and hire a billboard truck to canvass Hollywood with the message "We'll follow Angel to hell... or another network." There have been rallies, even — appropriate for a show about a noble vampire — blood drives.
These creative protests come at a time when creativity is an endangered TV commodity, with contrived reality trumping the most inspired fantasies.
Much of the mail I've received expresses fear that the networks have given up on shows that stimulate the imagination. That's why these people are so forcefully mourning the end of Joss Whedon's wild world of apocalypse and redemption that began with Buffy the Vampire Slayer.
On April 14, Angel returns with the first of its final six episodes. The story is full of action, humor and surprise, while also confronting big themes of humanity and heroism. As I watched, I was entertained, moved — but saddened. Like any fan, I'll miss Angel, too.
3.25.04 - TV Guide Online: Bloody hell! This bites! This sucks! Whichever vampire pun you choose to express your feelings on the subject, the sad fact remains: Sarah Michelle Gellar will not be resurrecting Buffy the Vampire Slayer for Angel's swan song after all. As foreshadowed in this week's issue of TV Guide magazine (on sale now), the in-demand actress' busy schedule was a deal-breaker. But that's only half of the story.
You see, Gellar wasn't asked to appear in the series finale, she was invited to return for the third-to-last episode (airing May 5). Unfortunately, when that hour was being shot, she was in Tokyo working on the supernatural horror film The Grudge and, obviously, quite unavailable. However, she was free to pick up stakes in the spin-off's capper (airing May 19). So why isn't she doing that installment? Executive producer Joss Whedon didn't want Angel's send-off to "revolve around a guest star," he says simply. "We will deal with the issue of Buffy and how much she means to Angel and Spike, but I want to end the show with the people who've been in the trenches together, the characters who have lived — and occasionally died — together... the regulars."
Whedon's Angel partner, Jeffrey Bell, adds that the idea of building the finale around the long-running Angel/Buffy/Spike love triangle "seemed to undermine the bigger picture. [So Gellar was left off the roster] in the same way that David Boreanaz wasn't involved in the series finale of Buffy." (Editor's Note: Boreanaz did in fact appear in Buffy's last episode; his penultimate cameo carried over into the first five minutes of the finale.)
Before you start sharpening Mr. Pointy and aiming it at the execs' hearts, you should know that, despite their well-thought-out rationale, at the point when they learned Gellar was free to participate in Angel's last hurrah, it was too late for her to do so. "We had already written and shot the episode [for which we originally wanted her] which emotionally dealt with [the romantic rivalry]," Bell says. "So, to go [back] and force her into the very last episode to retread stuff that we already dealt with didn't make any sense.
"By the time it became a possibility," he goes on, "the ship had sort of sailed."
Fine. So, how then will this much-ballyhooed (by us) May 5 episode give closure to Angel, Spike and Buffy — not to mention Angel/Buffy and Spike/Buffy proponents — when the superheroine in the middle of the muddle will be nowhere to be seen? "Angel and Spike arrive at an understanding — that's all I'll say about that," Bell teases. "And without her being involved, Buffy's character has come to some sort of understanding, too."
After that, the vamp-dusting ghostbusters will forge forward toward their final showdown (a two-parter airing May 12 and 19). "We're gonna get to the bottom of why we've been in Wolfman & Hart this whole time and what we're gonna do about it," hints Bell. And, though he refuses to drop any clues as to who will be "left standing at the end," he does promise this: "It's gonna be big!" As Buffy might have replied, "Well, duh!"
3.25.04 - E!Online: Angel-Buffy Reunion Spiked - Don't expect Buffy to show when the end comes for Angel.
Set storylines and scheduling conflicts mean onetime vampire slayer Sarah Michelle Gellar won't be reunited with her undead love when the WB's Buffy spinoff takes its final stab this May.
In an interview with TV Guide Online, creator Joss Whedon said he didn't invite Gellar to appear in the Angel series finale because he didn't want the sendoff to "revolve around a guest star."
"We will deal with the issue of Buffy and how much she means to Angel and Spike, but I want to end the show with the people who've been in the trenches together, the characters who have lived--and occasionally died--together...the regulars."
Gellar was invited to return for the second-to-last episode--the same way David Boreanaz appeared in Buffy's penultimate episode--but the blonde babe couldn't make it because she was in Tokyo shooting the horror film The Grudge.
And by the time producers learned she'd be available for Angel's final episode, it was too late. "We had already written and shot the episode [for which we originally wanted her] which emotionally dealt with [the romantic rivalry]," Whedon's partner, Jeffrey Bell said. "So, to go [back] and force her into the very last episode to retread stuff that we already dealt with didn't make any sense.
"By the time it became a possibility," he goes on, "the ship had sort of sailed."
Instead, the Buffy-Angel-Spike love triangle will be resolved sans the Slayer's participation. "Angel and Spike arrive at an understanding--that's all I'll say about that," Bell said. "And without her being involved, Buffy's character has come to some sort of understanding too."
Less understanding about the show's two-part finale airing May 12 and 19 are the diehard fans, who are hoping for an eleventh-hour miracle. Devoted viewers have mobilized a "Saving Angel" campaign, blitzing the network and media targets with pleas to spare the show, now in its fifth season. A rally is planned March 31 at the Warner Brothers production offices in Burbank.
They might as well try tapping the legal services of Wolfram and Hart. According to E! Online's TV guru Kristin Veitch, Boreanaz is already "looking forward to new challenges." He feels for the fans "because they have been so supportive," but "it's time to start a whole new journey."
3.25.04 - From the March 27th issue of TV Guide: Undying Love - The final battle to capture Buffy's heart
Sarah Michelle Gellar's deal to resurrect Buffy the Vampire Slayer in the May 19 series finale of Angel is all but signed in blood: "If she's available, she'll do it," her manager promises. As a result, viewers may finally learn who is the Chosen One's...um, chosen one. "Definitely, the question of Angel versus Spike looms large in Buffy's mind and in the minds of fans," says Joss Whedon, who created both shows. "But I'm not saying whether or not I have decided to answer it."
What Whedon may mean is that he hasn't yet decided how he will answer it–regardless of Gellar's involvement or how neatly the loose ends are tied up. "Angel and Spike will ultimately feel some kind of resolve about their conflict over Buffy," he insists, adding quickly that the tug-of-war over Sunnydale's stake-driving superheroine will not rule the episode. "It won't be all about that."
We'll bite: If the long-running love triangle won't be the focus, what will the episode be about? "The whole point of Angel is the idea of the fight and how it never stops," Whedon hints. "The finale was always meant to be open-ended in some respect. That doesn't mean I won't kill everybody, but I might not [explain] why."
In the meantime, Whedon will be welcoming back some other familiar faces. Michelle Trachtenberg is in talks to reprise her role as Buffy's kid sis, Dawn, for an early May episode that will also feature the toothsome tag team of Julie Benz (Darla) and Juliet Landau (Dru). But let's face it, Gellar is the "get" that any apocalypse has got to have. "Look, she either wants to do it or she doesn't," shrugs Whedon. "I'm counting on the ensemble I have now. It'd be swell to have her join them." –Michael Ausiello
3.22.04 - CNN: Save 'Angel' campaign takes flight - Fans of Joss Whedon's soon-to-be-canceled WB Network drama series sprung into action last month once it became official that the spawn of "Buffy the Vampire Slayer" would get the big spike in May. The "Save Angel" postcards and full-page ads have been flowing into The Hollywood Reporter and other publications for weeks, but "Angel" fans distinguished themselves from past fan-fueled salvage initiatives last week by hiring (at $700 a day) a billboard truck to drive around Los Angeles and park at strategic locations...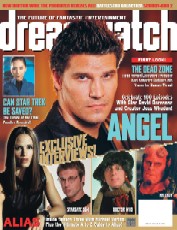 3.8.04 - In dreamwatch issue #115, the British magazine for sci-fi and fantasy entertainment, Angel star David Boreanaz, series creator/executive producer Joss Whedon and co-executive producer David Fury update dreamwatch on life currently on Angel. Joss Whedon talks to dreamwatch about the past, present and future of Angel, including how he would like Angel and Buffy to be remembered. David Boreanaz talks to dreamwatch about the show's revamped fifth season and tells us about his directorial debut on the Angel episode "Soul Purpose," including the bizarre experience of directing himself! David Fury chats to dreamwatch about writing and directing the 100th episode of Angel, "You're Welcome." To get dreamwatch delivered to your door in the UK, call 01536 764646 or email dreamwatchsubs@titanemail.com. To get dreamwatch delivered to your door in the US, call 1-877-363-1310 or eamil expressmag@expressmag.com. Please quote reference number P103.
3.7.04 - Roush Riff from the March 6th issue of TV Guide: WB's cancellation of Angel after this season marks the end of a rich era in smart, scary fantasy that began in the spring of 1997, when Joss Whedon's Buffy the Vampire Slayer (from which Angel was spun) helped put the small network on the map. I hope Whedon's crew will have time to deliver a memorable finale, with the prospect of TV-movie adventures to follow-maybe a reunion with Buffy someday? But I foresee a long period of vamp withdrawal, and all I can say is that WB's proposed remake of Dark Shadows for next season had better be good. Trading angel and Spike for a reincarnation of Barnabas Collins? I don't know what to think.
3.6.04 - Zap2It.com: 'Angel,' 'Firefly' Veteran Dives Over 'Wonderfalls' - Tim Minear ("Strange World," "Angel") is right back where he started from -- almost. He was executive producer, with creator Joss Whedon, of the highly anticipated FOX outer-space Western "Firefly," which premiered on Friday night at 8 p.m. ET in the fall of 2002. It didn't last long. "We like to think of it as the night that we promote 13-episode DVD sets," Minear quips about the quickly axed series, which will return as a just-greenlit $35 million feature film from Universal called "Serenity," with Whedon writing and directing....
3.3.04 - TV Guide reports that Joss Whedon's long-rumored Firefly feature film is finally airborne. Universal has officially green-lighted the project, which will be released under the title Serenity and pick up six months after the short-lived Fox series left off. The show's original crew -- headed by Nathan Fillion -- all will be back for the flick. Filming begins in June for a 2005 release.
2.24.04 - Zap2It.com: Fans Bid Farewell to 'Angel' - One would like to think the hordes of limousines and folks in evening dress dodging raindrops outside the Century Plaza Hotel in Los Angeles the night of Saturday, Feb. 21, were all there to mourn the end of The WB's recently axed "Angel" -- but, not so much....
2.20.04 - Angel may be dead, but the show's fans sure aren't. Less than a week after the WB drove a stake through the Buffy spin-off, more than 45,000 Angel addicts have signed an online petition at PetitionOnline.com to keep the toothy drama alive. Campaigns to save the show are also being organized at numerous fan sites, including SupportAngel.org. But does any of this really matter? "It [helped] Roswell," says a WB rep. "It was as good as gone and the big fan campaign brought it back." In other words, the ball's in your court UPN.
2.18.04 - Joss Whedon wants Sarah Michelle Gellar back. "We'll put out some feelers [again] to see if there's some interest there," he told TV Guide Online last night. "We'd certainly love to have her." But Gellar nixed an earlier offer to guest-star on Angel this season and Whedon says he isn't "banking" on her changing her mind. Still, we had to ask: If the Chosen One were to reappear in the Buffyverse, which of her undead loves would she be returning for -- Spike or Angel? "You think I'm going to tell you that? I'm not going to tell you that," Whedon says. "If she were to come back it would be to answer that question."
2.18.04 - Rumors that Angel could follow in Buffy the Vampire Slayer's footsteps and put down stakes at rival network UPN are just that -- rumors. "We've talked about the possibility," Whedon says, "but it's a long shot." A UPN spokeswoman had no comment, but an Angel insider confirms that execs at Twentieth Century Fox (Angel's producer) are putting together a proposal for UPN.
2.17.04 - Matt Roush's Dispatch: I go away for a week to escape the winter chill, and look what happens. WB cans Angel midway through its fifth season, leaving fans of cool, dark fantasy bereft. Some of us are still dealing with the demise of Buffy the Vampire Slayer last spring, and that one was long planned! This unfortunate dusting of Angel confirms rumors that had been circulating since before the 100th-episode celebration, but it still comes as something of a shock. If there's an upside, it's that Joss Whedon and his crew appear to have been able to muster up some sort of suitable season/series finale, so we won't be left hanging.
But we will be left wanting.
Buffy, and to some extent its spin-off Angel, helped put WB on the map ô much as The X-Files was key in establishing Fox's network identity. I still remember my shock when I first put in the tape of the Buffy pilot, with expectations that couldn't be lower ô after all, I'd seen the movie. I wasn't counting on much from the series or from the mini-network that up until then had little to recommend itself. (This was before Felicity, Dawson's Creek and Gilmore Girls, mind you.) Sarah Michelle Gellar's delightful performance as the spunky slayer, the warm wit and wisdom of Whedon's worldview, and the dynamic presence of David Boreanaz's soulful Angel (who would prove himself to be a leading man capable of carrying a series of his own), all were revelations to me.
Over the years, I have come to expect a certain level of quality from WB, and I have also become accustomed to the network not making that many regrettable programming decisions. Losing Buffy to UPN was one, letting Angel go before its creative team was ready is another. I will miss this world terribly. I think WB will come to miss it as well.
It's yet another body blow in a discouraging season for fans of offbeat TV. How many more reluctant goodbyes will we be forced to make to our favorite series before this year is over?
2.17.04 - TV Guide Online reports that there are still no plans for Sarah Michelle Gellar to guest-star on Angel, despite the WB's announcement Friday that this would be the show's final season.
2.13.04 - Zap2It.com: It's Over in Five for 'Angel' - Early Friday (Feb. 13) an announcement was made to the cast and crew at The WB's "Angel" that this season, the show's fifth, will be its last....
2.6.04 - Don't miss the one-on-one interviews and video clips from the 100th-episode celebration at E!Online.

Charisma Carpenter
by Justin Lubin/WB
2.5.04 - From TV Guide Online: Why Angel Lacks Charisma

At the end of last night's Angel, viewers learned big news: Cordelia Chase is dead. That's a dreary development for fans of her portrayer, Charisma Carpenter, who are mourning her big time today. But is she gone forever? Could she rise again, like Spike? Here, TV Guide Online sits down with the 33-year-old actress for a candid conversation about Cordy's farewell and her future plans.

TV Guide Online: What a trip it's been. From spoiled rich girl to psychic friend to evil cradle robber! And by that I mean the Cordy and Connor coupling was wrong!
Carpenter: I was a dirty bird! Ugh. That wasn't Cordelia; she was possessed. [Laughs] I'm in denial about that whole story line. It was creepy. Connor was Angel's son and half my age.

TVGO: Why did Cordy have to die?
Carpenter: I'm not on the show anymore and we didn't want to just leave Cordelia in a coma. [Angel creator] Joss Whedon probably feels like this may be the last year — or not — but this would be a very big story left untold. It was necessary for me to at least come back and set her straight.

TVGO: Could you still come back?
Carpenter: Whatever happens after this, I'm open. But it's just best this story be [resolved] now. Otherwise, it's a disservice to the fans of our show. They pay attention, if you haven't noticed, and they're really rather fanatical about getting the full, complete story. They care about the story lines. The Connor/Cordelia thing was, like, major upheaval. They didn't like it and so they responded!

TVGO: It's great that they care enough to watch and complain.
Carpenter: Yeah, my fans are amazing. I didn't even realize that I had such a big following until I left. Whatever it took to discover that, I'm very lucky.

TVGO: So they'll want you back as Cordy...
Carpenter: I don't think it'll be necessary. You never say never. However, at this point in time, I don't see a future for her. Even if I didn't [have other acting work], I feel like Joss feels — the Cordelia stories have been told. There were no other directions to go with her. I mean, they made her a higher being! First she was bitchy, then she was nice. She's matured, she's evolved, what's left to tell? Not a lot. And that's fine.

TVGO: What are your plans?
Carpenter: Well, I can tell you what my goals are. I have a son now, so I want the half-hour sitcom lifestyle, where you can have a family and work. And then, during summer hiatus, I'd like to do a Kill Bill or Wonder Woman or some movie like that.

TVGO: Wait, you want to do the long-rumored Wonder Woman movie?
Carpenter: I am actively putting it out there that I want to do Lynda Carter. It's my mission to be Wonder Woman! My agent hasn't seen a script, but some studio needs to do it. She's beautiful, she fights, and I like the concept of an empowerment role. I've always been so passive on Angel, where they usually wouldn't let Cordelia do martial arts stunts. Charisma wants to kick ass and bust heads!

David Boreanaz with his
wife, Jaime Bergman
2.4.04 - From TV Guide Online: Angel's 100th Birthday Bash

This weekend, TV Guide threw a party for WB's Angel to toast the Buffy spin-off's 100th episode. The cast and crew all celebrated at Hollywood's trendy Club Ivar, including four-time cover boy David Boreanaz and his lovely wife, actress Jaime Bergman. Natch, Party Boy was there — risking his neck in a roomful of TV vamps, I might add — to bleed some scoop out of Angel's insiders.

Among the festive guests were Buffy and Angel creator Joss Whedon and cast mates Alexis Denisof (Wesley), J. August Richards (Gunn), Amy Acker (Fred), Andy Hallett (Lorne) and, of course, James Marsters (Spike). Ever the instigator, I was just dying to know what folks think of Sarah Michelle Gellar canceling her May sweeps Angel guest spot?

We already know Boreanaz was grumpy, but he still wants her back for Angel's series finale (whenever that is). How did the others feel about Gellar's decision? "She seemed very committed to do it," Marsters told Party Boy. "I don't know what changed. I suppose she doesn't owe it to anyone, but it would've been nice. Frankly, the real star of this show and Buffy is Joss Whedon. If she wants to come and play in this wonderful universe, I would love to have her, because she's a marvelous actor. But we're having a lot of fun, anyway. If she doesn't want to come aboard, that's cool, too."

"I'll be surprised if it happens," Denisof said. "People tried to get that talk going when Buffy was finishing, and she was smiling and not saying yes or no, because it was the right thing to do politically. But I think Sarah's moved on. In this town, anything can happen."

Notably absent was Denisof's real-life wife, Alyson Hannigan, who played lesbian witch Willow on Buffy. But we forgive her. Hannigan's in London rehearsing for the West End stage version of When Harry Met Sally — costarring Luke Perry! — which opens later this month. (Word is, she beat out Reese Witherspoon for the role. Buffy's very big across the pond.)

One fun surprise guest was actress Juliet Landau — Spike's sublime bloodsucking ex, Drusilla. When Party Boy spotted her, she was sipping non-sanguinary cocktails with her partner-in-crime, Julie Benz, who plays Darla. Last seen in November sweeps, Dru's been sorely missed. Landau told me she wants to come back, but is unaware of any plans in the works. Still, she's chummy with Whedon — the two shared a nice Hollywood hug later on in the evening — so it's only a matter of time...

Former Angel regular Charisma Carpenter couldn't make the bash — her rep says she was out of town visiting family — but she previewed the 100th episode during my recent visit to the set. "I come out of my coma because The Powers That Be owe me a favor," she teased. "Cordelia needs to set Angel back on his path. Angel is confused and in doubt about what his destiny is, because Spike has returned from another dimension and he is working for redemption and he has a soul, too. It leaves Angel in a lot of self doubt. So I set Angel straight and then I leave. I'm in, I'm out!"

Angel's 100th episode — entitled "You're Welcome" — airs tonight at 9 pm/ET on WB. For even more scoop on the supernatural series, read the Jan. 31 issue of TV Guide magazine. For a preview of tonight's episode, click here. And for more from Carpenter about Cordy's future, come back here and read tomorrow's Insider!

2.3.04 - David Boreanaz and the cast of Angel will celebrate their 100th episode on On Air with Ryan Seacrest on Wednesday, February 4th.

1.21.04 - Zap2It.com: 'Angel' Seeks Redemption with Episode 100 - This past November, in the vast, echoing expanse of the Wolfram & Hart lobby, The WB Network's "Angel" proved that any death knells sounded for it were entirely premature. The Wednesday-night drama with the undead title character is very much alive, and executives from both The WB and studio 20th Century Fox showed up to cut a big cake (dripping with blood-red icing, of course) and sing its praises on the occasion of its 100th episode, airing Feb. 4....

1.20.04 - Zap2It.com: Hannigan and Denisof Find Love in the Whedonverse - All in all, life in Joss Whedon's imaginary universe has been pretty good to Alyson Hannigan and Alexis Denisof, both of whom landed roles in "Buffy the Vampire Slayer." Hannigan co-starred as Buffy's best pal, witch Willow Rosenberg. Denisof guest-starred as stuffy British Watcher Wesley Wyndham-Pryce. That on-set meeting sparked a friendship that led to dating and eventually ended up with a wedding....

1.5.04 - From TV Guide Online: Angel's James Marsters Rocks On

After Buffy the Vampire Slayer bit the dust, creator Joss Whedon hired James Marsters to join Buffy's spin-off, Angel. How does he like playing Spike, the semi-reformed British bloodsucker, on a whole other series?

"I'm really pleased they have a TV show to put me on, baby!" Marsters tells TV Guide Online. "I like acting. I'm so happy I don't have to go look for projects like all my friends from Buffy do. I'm sure they'll find them, but I've got my plate full right here and I love it."

When he's not on Angel's set, the actor performs with his band, Ghost of the Robot. His appearance on stage — leather jacket and slicked-back platinum hair — isn't much different from Spike's look. Does his easy recognition as a TV star help Marsters lure rock and roll aficionados to concerts?

"We were afraid of a double-edged sword, which is that people will come listen to you, but no one will take you seriously if you're a celebrity band," he says with a smirk. "But we've toured all over the U.S. and Europe, and everywhere we go, people say, 'Right on, dudes! Your music actually is good!'"

Life as an almost rock star isn't all a joyride. It takes work. "I'm the lead singer," Marsters says. "I write about 40 percent of the material. In the beginning, I played rhythm guitar, too, but to play and front a band is hard. Because the frontman has to connect with an audience. You have to give them permission to release and exalt, even though they're standing in the middle of a crowd of sweaty strangers.

"I also have new respect for bands who sound good live on tour," he says with a grin. "I didn't realize that, singing for rock, you have to sing loud. My singing has improved enormously because it's a physical effort. I've got to stand a certain way, spread my ribs and really let it out!"

Ghost of the Robot are currently at work on their second album. More info is available on the band's Web site.

12.31.03 - From Zap2It.com: 'Angel's' Sarah Thompson Just Wants to Sing - Although he did a musical episode of "Buffy the Vampire Slayer," writer/producer Joss Whedon has shown no interest in doing the same on its spin-off, The WB's "Angel," which stars David Boreanaz as a vampire with a soul seeking redemption by doing good. One cast member that wishes Whedon would reconsider is Sarah Thompson, who joined "Angel" this season in the recurring role of Eve, a young woman with mysterious links to dark forces....

12.24.03 - From Zap2It.com: Gellar Reportedly Nixes 'Angel' Visit - It used to be that when the forces of evil needed staking, you could count on Buffy the Vampire Slayer to save the day, but it's possible that she's not that reliable when it comes to supporting her former friends. Despite some speculation that she might drop by The WB's "Angel" this spring, Sarah Michelle Gellar may have already completed her run as Buffy. "I don't know that we'll see her on the show," Whedon tells Sci Fi Wire at the Los Angeles Comic Book and Science Fiction Convention. "I don't know that she'll ever pick up a stake again. I don't know. But that's really something you'd have to ask her...."

12.18.03 - TV Guide Online: Ange to Buffy: Come Back!

As reported in the current issue of TV Guide magazine, Sarah Michelle Gellar will not be back as Buffy this season, after all. The former star of Buffy the Vampire Slayer was in talks to do a two-episode arc on Buffy spinoff Angel. However, says Joss Whedon, creator of both supernatural series: "She feels it's not the right time." Asked about Gellar's decision to bail, Angel vamp David Boreanaz bares his fangs...

"I honestly don't know what happened," he grumpily tells TV Guide Online. "Why don't you ask her about it? I'm sure she'll come up with a good answer."

After simmering down &$151; good thing his face doesn't contort monstrously, like it does on TV! — the actor looks to the future. Should Angel's fifth season turn out to be its last, Boreanaz hopes Gellar will at least do the final episode, if only to help him bite the dust in style. "If Sarah wants to come back for a final farewell — like I did for her on her series finale — that would be fantastic," he says. "Now, that's something for her to decide. That would be great, to have her. I think it would be great for the fans to see that.

"I think it's a responsibility to do those [farewell] shows and give the appreciation for the fans that are watching this," Boreanaz adds. "Those are the people that tune in and have made us who were are today. It's not like you do 50 or 100 episodes of a show and say, 'Screw you.' You have a responsibility to your fans, and that's important. You give as much as you can responsibly, as long as you're having fun with it."

Are you listening, Ms. Gellar? Buffy's fans are staking their hopes on it.

12.15.03 - Read Kristin at E!Online's account of visiting the set of Angel.

12.15.03 - From TV Guide Online: Sarah Michelle Gellar won't be back as Buffy this season after all. The erstwhile Slayer -- who was in talks to do a two-episode arc on Buffy spinoff Angel during May sweeps -- has opted against picking up stakes again. Says Joss Whedon, creator of both series: "She feels it's not the right time." Gellar's rep declined to comment. In related news, the Scooby-Doo thesp has signed on to star in the horror film The Grudge, an English-language remake of the Japanese thriller Ju-On.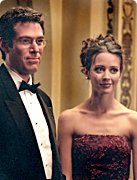 12.9.03 - From TV Guide Online: Will Angel Unite This Duo?
Fans of Angel are wondering if Wesley and Fred will ever couple up. The British bookworm and the mousy lab rat — as played by Alexis Denisof and Amy Acker — definitely have a geek love thang goin' on, don't they? It's not all about the vampires on this show, after all. But like everything on this Buffy spin-off, it's, well, complicated.
Wesley's always had a thing for Fred, but she keeps breaking his heart by being interested in other people," Denisof tells TV Guide Online. "So who knows where that will go."
"I'm bound to hook up with one of these guys that I've been flirting with soon," Acker teases, speaking in character. "I've been flirting with Spike a little. I have a lab assistant guy named Knox that I hook up with now and then. You haven't seen anything, but we always go off and get beers together, so..."
But what about Wes? "Wesley thinks that something's happening with him," Acker giggles. "I'm still leading Wesley on a little bit. I'm trying to keep my options open. I think that whole thing when he messed around with Lilah hurt Fred's feelings. I felt betrayed by that because he went off and had sex with this bad girl and made her dress up like me. That was weird!"
Yet TV teaches us there's always hope for star-crossed lovers. "I think that I'll end up with Wesley," Acker says. "It's destined. They've kept this going on for three and a half years now, so it seems like there's got to be a payoff there, right? Then again, [Angel creator] Joss Whedon likes to make people suffer, so there's a good chance it'll never happen! But if I had my way, I'd like to do lots of scenes with Alexis Denisof, because he's so fun to work with."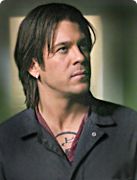 12.8.03 - From TV Guide Online: Last month on Angel, Eve freaked us out by crawling into bed with none other than Lindsey McDonald! The evil Wolfram & Hart lawyer was MIA until the "Destiny" episode, which revealed him as her secret lover. Who knew Christian Kane, who plays Lindsey, was so tattooed and muscular? "I've been off the show for two and a half years, man," he tells TV Guide Online. "I had some time to hit the gym."
By the way, although Kane does have tattoos of his own, the tats we've seen onscreen are fake. According to a setside source, they represent a code which Angel's gang will decipher in the show's 100th episode, "You're Welcome," airing Feb. 4. Damn! Can't we get a hint of their mysterious meaning before then? C'mon, Christian, hook us up...
"I know what the tats mean," Kane admits. "I just can't tell you! 'Cause then, I'd have to kill you. And if I did tell, then [Angel creator] Joss Whedon would probably kill me. It will all be revealed in that big episode."
Well, besides buffing up, what's Kane been up to during his time away from Angel? "I've done six movies," he proudly points out. These include Secondhand Lions, Angelina Jolie's Life Or Something Like It and Just Married with Ashton Kutcher and Brittany Murphy. He's currently filming Taxi, a comedy co-starring Queen Latifah.
And as if all that's not enough to keep him busy, the 29-year-old actor's band, Kane, has just signed a record deal with EMI Nashville. They're currently recording their second album, but the first one — also entitled Kane — still is available through their website. "We're a little country rock," he grins. "It's like Lynyrd Skynyrd meets the Allman Brothers meets George Strait."
12.5.03 - Zap2It.com: Boreanaz Goes Behind Camera on 'Angel' - "Angel" star David Boreanaz will pull double duty on a January episode of the series. In addition to his usual leading role as the vampire-with-a-soul title character, Boreanaz also makes his directorial debut with the episode, titled "Soul Purpose." "It was a really fantastic journey for me," Boreanaz tells Zap2it.com about stepping behind the camera. "I had a great time...."
12.1.03 - MSN Entertainment: 'Angel' Re-Vamped - Like many survivors of near-death experiences, the supernatural TV thriller "Angel" has started a new life....
11.18.03 - Zap2It.com: Landau Is 'Angel's' Queen of Flashbacks - In "Destiny," the Wednesday, Nov. 19, episode of The WB's "Angel," the love story of Spike and Drusilla (James Marsters, Juliet Landau) continues ... more or less....
11.11.03 - Kristin at E!Online assures us that Angel has already been renewed for a sixth season.
10.22.03 - Zap2It.com: Merdeces McNab Brings Harmony to 'Angel' - Bringing the opposite of everything her name implies, Harmony (Mercedes McNab), the Valley-girl vamp from "Buffy the Vampire Slayer," has found a new home on The WB's "Angel," airing Wednesdays. She's just "a single, undead gal trying to make it in the big city," says McNab, who previously guest-starred as Harmony in a second-season episode of "Angel," currently in its fifth year....
10.21.03 - Zap2It.com: The 'Wicked Prayer' of 'Angel's' Boreanaz - Fans who've tuned in to the fifth season of The WB's Wednesday-night drama "Angel" may have noticed a new look for star David Boreanaz, who plays the title character, a do-gooding vampire with a soul. After many years with a short, spiky, gelled 'do, Angel now sports a smooth, combed-back style. "Just a little slicker look for him," Boreanaz says....
10.21.03 - Zap2It.com: Spike TV: Marsters Routs Boreanaz to Win Showdown of the Network Stars - Spike may be fading in and out of Wolfram & Hart on "Angel," but he's front and center in the minds of Zap2it readers. James Marsters, who plays the not-all-physically-there vampire on The WB series, easily won Zap2it's third annual Showdown of the Network Stars over his "Angel" co-star, David Boreanaz. He joins past winners Gillian Anderson ("The X-Files," 2001) and Jennifer Garner ("Alias," 2002) as the person anointed the top star in the TV universe....
10.16.03 - Zap2It.com: Whedon Wants Cordy Back on 'Angel' - "Angel" creator Joss Whedon says he'd like to bring Charisma Carpenter back to the show sometime this season, even if it's just to achieve an end to her character's story. Carpenter left the show at the end of last season, with her character, Cordelia Chase, lying in a coma after giving birth to an evil being that nearly took over the world. Cordy has remained off-screen and has barely been mentioned in the opening episodes of this season....
10.13.03 - Zap2It.com: Vampires Suck the Blood out of Showdown's Final Four - Then there were two. While "Alias'" Jennifer Garner and "Tru Calling's" Eliza Dushku fought the brave fight, they just weren't women enough to resist the fatal charms of "Angel's" resident vampires. David Boreanaz and James Marsters will face-off in the final round of Zap2it's Showdown of the Network Stars, proving once and for all (or at least on this site), who exactly is the baddest member of the undead on the block....

Alyson Hannigan and Alexis Denisof
by Joe Buissink/WireImage.com
10.13.03 - From TV Guide Online: Former Buffy the Vampire Slayer sorceress Alyson Hannigan had a pretty magical weekend. On Saturday, the actress married longtime beau (and Angel actor) Alexis Denisof in Desert Hot Springs, Calif. And the following day, news broke that the American Pie leading lady — who recently made public her wish to star in a TV sitcom — had inked a deal with NBC to headline her very own comedy series for fall 2004.

10.11.03 - Zap2It.com: 'Angel' Unleashes a Werewolf - On Wednesday, Oct. 15, at 9 p.m. ET, in an episode called "Unleashed," The WB's "Angel" pits its titular character, a vampire with a soul, played by David Boreanaz, against a classic movie monster -- the werewolf....

10.9.03 - From TV Guide Online: The WB has given the green light to a full season of Angel, which has performed well on Wednesdays. According to Variety, the Frog network had an option to cut back to 13 episodes if the show tanked. In related news, ex-Buffy the Vampire Slayer scribe Doug Petrie is developing a contemporary take on Lost in Space for the WB.

10.7.03 - Matt Roush reviews Angel from TV Guide Online: New Digs, Same Bite - With Spike Aboard, Angel is Twice the Fun

A do-gooding vampire who now runs a sinister law firm? Weird, yes. But as Angel's bloodsucker of an office assistant says of the benefits, "Who needs dental more than us?"

Buffy the Vampire Slayer may be cult-TV history, but its spin-off, Angel (WB, Wednesdays, 9 pm/ET), wonderfully preserves creator Joss Whedon's cheeky-spooky tradition of mayhem. Adding allure this season is the posh new setting, as Angel and his posse settle uneasily into the offices they've inherited from Wolfram & Hart, "the law firm that represents most of the evil in the world."

Angel's crusaders, accustomed to fighting demons in the back alleys of Los Angeles, wonder if they can still do good from within the corridors of corruption. Complicating matters is the arrival of Buffy's reformed fiend Spike, who, like Angel, is a vampire with a soul.

Violently resurrected from his fiery sacrifice in Buffy's grand finale, Spike is trapped in a mysterious limbo. Even by the end of the second episode, no one knows whether he can be trusted or should be feared.

All that's clear is that James Marsters, who plays Spike with surly relish, is enjoying each taunt he trades with David Boreanaz as the ever-brooding Angel.

Verbal barbs fly as fast as fists and stakes in this clever thriller. As these vamps go for each other's throats — metaphorically, anyway — the show begins to feel like a supernatural buddy comedy.

"I must be in hell," growls Spike. But we know better. Funny, scary and completely original, Angel is nirvana for those who enjoy a good scream — and a good laugh.

10.1.03 - Kristin from E!Online will be interviewing the cast live on the set for E! News Live at 7pm on October 8th.

9.30.03 - Zap2It.com: 'Angel' Is Back from the Dead - With director (and series co-creator and executive producer) Joss Whedon hunched over a small monitor in a cramped corner of the set, the cast and crew of The WB Network's "Angel" begin work on what Whedon's script calls "a big-ass Steadicam shot," which opens the show's fifth season on Wednesday, Oct. 1....

9.8.03 - From Kristin at E!Online: The rumor mill says James Marsters (formerly of Buffy) may do a scene in the nude this season on the WB's Angel. So, naturally, as a seasoned reporter who upholds the highest standards of journalistic integrity, I had to get to the, um, bottom of this.

Which is why, during E! News Live on Wed., Oct. 1, I'll be coming to you live from the Angel set, hopefully rubbing elbows and various other things--like Lotto scratchers!--with James and David Boreanaz. Mark your day planners.

For more from Kristin, see the previews page.

9.4.03 - From TV Guide Online: It's official: Buffy sire Joss Whedon has signed a deal with Universal to turn his short-lived Fox series Firefly into a feature film. According to The Hollywood Reporter, Whedon -- who will pen the script -- will make his big-screen directorial debut with the project. Shooting is expected to begin in early 2004, and it's Whedon's hope that the show's original cast will return.

9.3.03 - TV Guide this week has the scoop on Spike's move to Angel. Some of the story is online, but the full story can be found in the magazine.

9.3.03 - E!Online: Eliza Dushku - Buffy's Bad Girl Goes All Martha Stewart and Saves the Day - She's been a cheerleader and a vampire slayer--and now, she sees dead people. But one thing never changes as 22-year-old Eliza Dushku morphs from role to role: This is one tough chick....

8.26.03 - Old episodes of Angel will begin airing in weekly syndication starting September 27th.

8.12.03 - Zap2It.com: 'Angel's Gunn, Charles Gunn - In 10 years, "Angel" star J. August Richards would like to be wearing a tux, driving an Aston-Martin and drinking a martini (shaken, not stirred). The same goes for his character, vampire hunter Charles Gunn....

8.11.03 - TV Guide Online "Caught in the Act" - Angel in the Outfield: Courteney's hubby David Arquette teamed up with Angel's David Boreanaz for the 45th Annual Dodgers Hollywood Stars game.

8.6.03 - E!Online reports that Charisma Carpenter has landed a date with NBC's Miss Match. Carpenter has signed on to make a guest appearance on the upcoming Darren Star series starring Alicia Silverstone. Carpenter plays a high school pal of Silverstone's character in an episode set to air on October 10.

8.5.03 - According to Charisma Carpenter's fan site, she will guest star on Miss Match this season.

8.3.03 - The August 8th issue of Entertainment Weekly reports that Joss Whedon is working on a feature film version of his TV flop Firefly, which he wants to start shooting next year. He is also trying to get Sarah Michelle Gellar to schedule time as Buffy in two episode of Angel next season.

8.2.03 - In the August 2nd issue of TV Guide, David Boreanaz says that he likes "Before & After on HGTV. I love building stuff and architecture and remodeling. I like to see things the way they were before, and then what they did to it."

7.31.03 - Zap2It.com: 'Angel' Brings in Fresh Face, Old Friend - As the only currently active outpost in the know Buffy-verse, "Angel" is swelling its cast to include even more familiar faces, as well as one or two new characters to replace departed Charisma Carpenter and Vincent Kartheiser.

As has long been rumored, Mercedes McNab will join the show on a recurring basis, revisiting her Harmony character. This will allow Harmony, a somewhat bumbling vampire whose attempts at self-empowerment rarely end well, to reunite with former flame Spike (James Marsters, who has already been announced as a new series regular). McNab made appearances as Harmony on both "Buffy the Vampire Slayer" and "Angel."

McNab's other credits include appearances on "Dawson's Creek" and "Boston Public."

The WB has also confirmed that another "Boston Public" alum, Sarah Thompson, will join "Angel" for at least six episodes as Eve, a new assistant to David Boreanaz's Angel at Wolfram & Hart. Those in the know are coy about Thompson's character, who may or may not provide temptation for the show's undead hero.

Thompson, who played high school seductress Dana Pool in the first season of "Boston Public," appeared on episodes of "The District" and "Touched by an Angel" last season. She also was in the feature "Malibu's Most Wanted."

7.30.03 - The season premiere will air on Wednesday, October 1st.

7.7.03 - From TV Guide Online: Expect some fresh blood on Angel next season. In addition to Buffy the Vampire Slayer's James Marsters crossing over, the show is looking to cast a new female character who will work at Wolfram & Hart, and – natch – possibly be a romantic interest for one of the show's main men. An Angel rep, however, insists that the new addition will not be a replacement for ex-leading lady Charisma Carpenter, who could make an appearance or two next season.

6.12.03 - From TV Guide Online: Former Angel leading lady Charisma Carpenter is hooking up with Joe Millionaire's Evan Marriott -- well, sort of. Marriott will play one of several single guys courting Carpenter's title character in the upcoming ABC Family telepic See Jane Date. Among her other suitors: Antonio Sabato Jr., Zachary Levi (Less Than Perfect) and Geoff Stults (7th Heaven). The comedy -- which co-stars Charmed sorceress Holly Marie Combs -- starts filming Friday in Montreal.

6.6.03 - Zap2It.com: Denisof Pleasantly Surprised at 'Angel' Renewal - One of the worst things about being a TV actor is waiting to hear whether or not the network is going to pick up your show for another season. Especially anxious are cast members of an "on the bubble" show that could go either way. Alexis Denisof, who stars as button-up Slayer Watcher turned bad-ass demon hunter on The WB's "Angel," had his own strategy to cope with waiting for the network's 11th hour decision as to whether it would bring the series back for a fifth season....

5.27.03 - TV Guide Online: Angel Mystery: Will Cordy Wake Up? - Now that Angelus and Co. have assumed control of Wolfram & Hart on Angel, we suggest they use their new seat of power to solve the show's biggest mystery: What the heck happened to Charisma Carpenter and her alter ego Cordelia?...

5.26.03 - It's official: Charisma Carpenter will not be back as a regular cast member next season.

5.23.03 - TV Guide Online: Buffy Postmortem: Is Spike Dead? - As far as series finales go, Buffy the Vampire Slayer's was a doozy. We laughed, we cried, we hurled large objects at the TV in utter despair. But darnit if the show's creator, Joss Whedon, didn't leave us wanting more... closure, that is. For example, why of all the Scoobies did Anya (Emma Caulfield) have to die? And what's the deal with Spike (James Marsters), who bit the dust just days after making a date with Angel this fall? For answers to those questions and more, read on....

5.23.03 - From TV Guide Online: In Buffy's series finale, Spike (James Marsters) sacrificed himself for his Chosen love (Sarah Michelle Gellar). Won't that make it hard for him to cross over to Angel next season? "The trick is how to bring him back without losing the integrity of what he did," muses exec producer Joss Whedon. Fans are speculating that Whedon and co. will fall back on Shanshu, an ancient prophecy introduced during Angel's first season that says once a vampire with a soul fulfills his destiny, he will become human. "That's an interpretation," he says, "and ultimately, it could become the interpretation if we decide to go that way."

5.21.03 - Zap2It.com: 'Angel' Will Keep 'Buffy' Torch Lit - We learned in the third season of "Buffy the Vampire Slayer" that death isn't necessarily final for vampires with souls. That should be good news for James Marsters. He's scheduled to join the cast of "Buffy" spinoff "Angel" next season, but when we last saw his character, the ensouled vamp Spike, in Tuesday's (May 20) "Buffy" finale, he was disintegrating after quite literally pouring his soul out to defeat the First Evil....

5.21.03 - The 29th Annual Saturn Awards, honoring the best in science fiction, fantasy and horror film and television, were presented on Sunday night (May 18), and David Boreanaz won best actor.

5.13.03 - Zap2It.com: Producer Admires 'Angel' from Afar - "I will continue to be consulting producer David Greenwalt," says the co-creator (with Joss Whedon) of The WB's "Angel." "I will continue to watch from afar and work from afar." While he's no longer involved in the day-to-day affairs at the "Buffy the Vampire Slayer" spin-off, which just got picked up for its fifth season, Greenwalt keeps a weather eye on the Wednesday-night drama and has a few hints about what's coming up this fall....

5.13.03 - Not that it needed to be much more official, but the WB announced their fall line-up today, and not only is Angel staying on Wednesdays at 9pm (with the new lead-in of Smallivlle, which moves from Tuesdays), but James Marsters (Spike) is officially joining the cast.

5.13.03 - Sam Anderson's (Holland) new comedy, Back to Kansas, has been picked up for the fall season by ABC, and will air on Fridays at 8:30pm ET.

5.12.03 - Zap2It.com: Marsters Joining Cast of 'Angel' - From the headline above, it could be inferred that "Angel" will, in fact, return to The WB next season. That inference would be correct. The WB confirms to Zap2it.com that the show will be back on its schedule next season, which will come as a huge relief to its fans -- and of the departing "Buffy the Vampire Slayer" -- who for weeks have fretted about "Angel's" fate. The network unveils its full lineup for next season on Tuesday (May 13). As indicated in the season finale, in which Angel (David Boreanaz) and his crew took over the L.A. office of evil law firm Wolfram and Hart, "Angel" will likely take a new direction in the fall. It will also be twice as soulful, as James Marsters -- who plays the recently ensouled vampire Spike on "Buffy" -- will join the show's cast....

5.12.03 - From TV Guide Online: Here's some news that doesn't suck: The WB has renewed Angel for a fifth season. The acclaimed Buffy the Vampire Slayer spinoff will hold on to its 9 pm/ET-Wednesday timeslot, but it will get a much stronger lead-in this fall when Smallville moves to Wednesdays at 8 pm/ET. Meanwhile, Buffy's James Marsters (Spike) will cross over to Angel full time next season.

5.6.03 - Kristin at E!Online says she's 95% sure that Angel will be renewed for another season by the WB.

5.5.03 - TV Guide Online: Is Angel Livin' on a Prayer? - Although the WB already has picked up many of its hits for next season, cult fave Angel is not among them. Nonetheless, David Boreanaz, who plays the toothsome hero of the Buffy the Vampire Slayer spinoff, remains hopeful that good news is forthcoming. "I'm optimistic," he tells TV Guide Online, noting, "We didn't get an early renewal last year, either. You just kind of have to wait it out...."

5.3.03 - Zap2It.com: 'Angel's' Lilah Is Dead and Loving It - It's hard to keep a bad girl down. Proof of that is the return of the nefarious lawyer Lilah (Stephanie Romanov), who made a surprise appearance at the end of the April 30 episode of The WB's "Angel." Killed, bitten and then beheaded earlier in the season, Lilah is back from the depths of hell to make an offer to good-vampire Angel (David Boreanaz) and his gang, in the wake of their defeat of the people-eating false deity Jasmine (Gina Torres)....

4.29.03 - From TV Guide Online: David Boreanaz -- whose bloody brilliant WB drama Angel has yet to be picked up for a fifth season -- has signed on to play the lead bad guy in the fourth installment of the Crow film series, titled Wicked Prayer. "I didn't even know there was a third [Crow movie]," Boreanaz laughs. (Don't feel bad. I didn't either.) Dennis Hopper and Eddie Furlong co-star in pic, which starts shooting in June.

4.28.03 - Matt Roush from TV Guide: So Good It's Scary - Now this is what I call recycling. In conjuring memorable new supervillains for his masterful dark fantasies Buffy the Vampire Slayer and Angel, executive producer Joss Whedon enlisted two charismatic stars who earlier this season played heroes on his short-lived sci-fi Western Firefly. The result: some of the year's most blistering and chilling entertainment. Apocalypse wow!.... (I'm not sure how long the link for this story will work. I can't find to seem a permanent link.)

4.27.03 - Zap2it.com: 'Angel' Finale Offers Endings and Beginnings - On Wednesday, April 30, at 9 p.m. ET, The WB's "Angel" airs the new episode "Peace Out," leading into the show's fourth-season finale on May 7 -- which cast and crew fervently hope won't also be the series finale for the "Buffy the Vampire Slayer" spin-off. At present, rumors are flying....

4.23.03 - Kristin, at E!Online, asked Joss Whedon about the chances of Angel being renewed for a fifth season, and he replied: "We haven't heard anything. But I think the prognosis is pretty positive. It's doing well. There's big love for it at the WB. And I feel pretty sure they're not going to tell us that until the very last moment. We have so much going right now, so many ideas for what's to come. And they're in the loop on that and very excited about them, so there's no reason not to. I mean, I've been wrong before, but I'd be pretty surprised [if we weren't picked up]." Kristin says that we'll find out for sure in three weeks.

4.14.03 - MSN Entertainment: Angel Redeemed - Last week, Angel used its "get out of jail free" card. I've really picked on Angel these past two seasons because I had faith in the show's potential and haven't always been pleased with its progress. Last week, the show tried to tell us that basically everything we haven't liked about the show -- from Cordelia becoming a higher being to Cordy and Connor sleeping together -- has been part of some master evil plan. And by Glory if it didn't work....

4.11.03 - Angel won the poll that Kristin at E!Online was holding as to which show is the one that fans want to save the most.

4.4.03 - Watch with Kristin at E!Online: The Spinoff Sitch to the Crossover Conundrum, It's a Buffy Bonanza.

4.1.03 - Zap2It.com: Angel Returns to Sunnydale for 'Buffy' Endgame - The final episodes of "Buffy the Vampire Slayer" will be lousy with ensouled vampires. UPN on Tuesday (April 1) confirmed the widely held notion that the original vamp-with-a-soul, Angel (David Boreanaz), will play a part in "Buffy's" final story arc. The final five episodes begin airing Tuesday, April 15, leading up to the series finale on May 20 (no original episode is scheduled for April 22)....

3.31.03 - James Marsters is in talks to bring his character of Spike over to Angel from Buffy.

3.27.03 - Charisma Carpenter and her husband, Damian Hardy, welcomed their first child, a boy, into the world on Monday, March 24th. His name is Donovan Charles Hardy. The child and mother are both "healthy and well," Carpenter's representative reports. Carpenter will return to Angel soon to work on the season's final episodes.

3.26.03 - Zap2It.com: Greenwalt Seeks 'Miracles' and an 'Angel' - It's an anxious time for writer/producer David Greenwalt. On the one hand, "Angel," which he co-created with Joss Whedon for The WB, is awaiting word of whether it will get picked up for a fifth season, after not having been named among six scripted shows already given the green light for fall. Although he's no longer working full-time on "Angel," Greenwalt keeps a weather eye on the drama and consults on scripts and story....

3.21.03 - The WB will re-air last Wednesday's episode this Sunday at 9pm ET.

3.20.03 - Although the WB interrupted last night's "Orpheus" episode of Angel just minutes before its conclusion to announce that war in Iraq had begun, an advance tape received by TV Guide Online revealed what most of America didn't see. While saying her goodbyes, Willow mistook Fred's invitation to return to L.A. to decode ancient texts with her as a come-on. "I'm seeing somebody!" the lesbian witch finally declared. Following the Sunnydale sweetheart and Slayer Faith's exit, Angel, his soul restored, began rallying the troops. But before he could go all Tony Robbins on the gang, evil Cordelia came downstairs rubbing her belly in a maternity dress by Mae West, and told the champ, "If this is the speech about how the worst is behind us, you might want to save it." Thank you, TV Guide!

3.20.03 - Buffy Magazine #7 is out and it has all the latest Angel and Buffy exclusives, interviews, and gossip you could possibly want, including the latest word from the Hellmouth and beyond. Find out if Buffy and Angel will get back together, read an exclusive interview with Nicholas Brendon, find out what Alexis Denisof thinks of Wesley's new image, talk to the people who create the demons, and read exclusive interviews with Emma Caulfield and Marti Noxon. To subscribe, call 847-330-5549 or email buffsubs@titanemail.com quoting reference number P103. You can also subscribe to the ezine by emailing buffyezine@titanemail.com with "Ezine" in the subject.

3.13.03 - TV Guide Online: Buffy Spinoff: Willow the Vampire Slayer? With Sarah Michelle Gellar preparing to dust her last blood-suckers on Buffy the Vampire Slayer, and Eliza Dushku committed to the Fox pilot Heroine, who ever will protect viewers from things that go bump in the night? Our chosen one is Alyson Hannigan, aka the wickedly funny witch Willow. And series creator Joss Whedon just might agree with us, too. "The concept sounds cool," he admits to TV Guide Online....

3.8.03 - Matt Roush raves about Angel in the March 8th issue of TV Guide: When Angel is bad, Angel is sensational. WB's underrated vampire drama has lately eclipsed Buffy the Vampire Slayer, the cult show from which it spun, with an apocalyptic story line of stunning twists – capped by undead hero Angel sacrificing his soul to revert into evil "Angelus" and cohort Cordelia reveling in mysteriously murderous misdeeds as well. The return of bad-girl vampire slayer Faith, sprung from prison in the thrilling March 5 episode, adds a new level of sexy intrigue to this powerfully entertaining supernatural adventure.

3.4.03 - Transcript of David Boreanaz's and Charisma Carpenter's live chat with Kristin at E!Online.

2.28.03 - Watch with Kristin from E!Online: Truly Angelic Q&A's--and a Visit from the Stars Themselves - I am nothing if not a giver. Just for you, my faithful tubers, I sacrificed an entire day to spend on the set of Angel, seeking answers to the questions you're dying to know....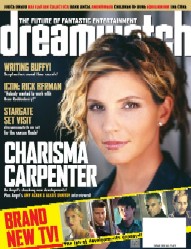 2.28.03 - In current issue of Dreamwatch, issue #103:
Cut to the Chase
Returning from hell just in time to catch up with dreamwatch, Angel's leading lady of the moment, Cordelia Chase a.k.a Charisma Carpenter, discusses the show's latest developments and reveals how her life is progressing off screen. Plus, dreamwatch chats with Alexis Denisof and Amy Acker.
Dreamwatch is a UK-based Sci-Fi magazine. For more info on subscribing in the UK, call 01536764646 or email dreamwatchsubs@titanemail.com. For the US, call (877) 363-1310 or email eexpressmag@expressmag.com. Please quote reference number P103.

2.27.03 - Beginning this fall, TNT has picked up the off-net cable rights to Angel. The show has 88 episodes and the Hollywood Reporter pegs the license fee at approx $300,000/ep. Angel will move into TNT's Primetime in Daytime lineup which also includes Charmed, and starting in the fall, Judging Amy. Angel will also air on local stations, weekends only, a straight barter deal.

2.25.03 - Eliza Dushku (Faith) has agreed to star in an untitled drama pilot for FOX. John Feldman, creator of the FOX pilot, says he had Dushku in mind when writing his lead character, a young woman who discovers she can go back in time and relive a day in order to save lives. "Onscreen and off, she is smart, strong, beautiful and embodies all the characteristics that are imperative to the character," Feldman says. While there has been talk of a possible Faith spinoff of Buffy, it apparently has yet to advance past the talking stage.

2.13.03 - Zap2It.com: Gina Torres Turns Bad for 'Angel' - Fans of "Angel" who were left bewildered by the ending of Wednesday's (Feb. 12) episode will find out later this season who's been behind all the havoc befalling Los Angeles. Turns out the Big Bad looks a lot like Gina Torres....

2.11.03 - David Boreanaz is expected to appear in the Buffy season finale in May. More from TV Guide.

2.7.03 - Zap2It.com: Hearts, Flowers and Baby Rattles at 'Angel' - It's all about the ties that bind over at The WB's Wednesday-night supernatural drama "Angel." The show's plotline may have the world facing ultimate destruction, but love is in the air on set....

2.3.03 - Zap2It.com: Sean Astin Loves 'Soulless' 'Angel' - "I was just hanging onto my hat and glasses, trying not to fall off the roller coaster," says Sean Astin. "You know what, I had a great time, getting to work with Angelus. He is so in his element as Angelus, that you just don't want to stop." On Wednesday, Feb. 5, at 9 p.m. ET, The WB airs "Soulless," the latest new episode of "Angel," written by Elizabeth Craft and Sarah Fain, and directed by Astin, known to moviegoers as the sturdy Hobbit sidekick Samwise Gamgee in director Peter Jackson's "The Lord of the Rings" movie trilogy....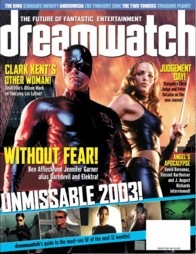 1.30.03 - In current issue of Dreamwatch, issue #102:
ANGEL'S APOCALYPSE!
Calling all Angel fans! No doubt you will be excited to hear that in this issue of Dreamwatch we interview the hottest men on the Angel set. We talk to the divine David Boreanaz about the future of Angel and of his new role as a father, and chat with the two youngest recruits, J. August Richards and Vincent Kartheiser, about the latest developments for Gunn and Connor.
Dreamwatch is a UK-based Sci-Fi magazine. For more info on subscribing in the UK, call 01536764646 or email dreamwatchsubs@titanemail.com. For the US, call (877) 363-1310 or email eexpressmag@expressmag.com.

1.23.03 - Lord of the Rings co-star Sean Astin moves behind the camera to direct the Feb. 5 installment of Angel, titled "Soulless."

1.23.03 - TV Guide Online reporsts that Alyson Hannigan (Willow) will be appearing on Angel on March 26th. Since the shows are now on different networks, how did the crossover come to pass? Sources tell TV Guide Online that, because this is likely Buffy's last season and could be Angel's as well, the networks are giving creator Joss Whedon the leeway to do whatever he likes.

1.14.02 - Wanda at E!Online reports that Alexis Denisof and Alyson Hannigan got engaged.

1.14.02 - Wanda at E!Online reports that as of episode 14, Andy Hallett will be a series regular.

12.13.02 - Zap2It.com: WB Thinks 'Angel' Natural Fit for Wednesdays - There are those who think The WB is condemning "Angel" by moving it to Wednesday nights at 9 p.m. ET, a highly competitive hour of television already occupied by NBC's "The West Wing" and ABC's "Bachelor" franchise, but the network itself thinks it's the natural choice to replace freshman flop "Birds of Prey...."

12.24.02 - Zap2It.com: 'Angel' Okay with Move to Wednesdays - When "Angel" returns to The WB's schedule with new episodes on Wednesday, Jan. 15 it will be occupying its fourth night in three-and-a-half years on the air. However, executive producer Jeff Bell tells Sci Fi Wire that they're not sweating the move. After all, it started out this season, its fourth, at 9 p.m. ET on Sundays, opposite "Alias" on ABC, "The Sopranos" on HBO, "Law & Order: Criminal Intent" on NBC and "Malcolm in the Middle" on FOX....

12.7.02 - Zap2It.com: Quinn May Have Died of Overdose - Actor Glenn Quinn may have died of a drug overdose, police say. Quinn, 32, a former co-star of "Angel" and a recurring player on "Roseanne," was found dead Tuesday (Dec. 3) at a friend's home in North Hollywood. Los Angeles police suspect a drug overdose and will keep the case open until toxicology tests are complete, the Los Angeles Times reports. No foul play is suspected....

12.6.02 - Zap2It.com: Former 'Angel' Star Quinn Dies - Glenn Quinn, who played the visionary half-demon Doyle on the first season of The WB's "Angel," has died. Quinn, 32, died Tuesday (Dec. 3) of unknown causes. Further details were unavailable at press time....

11.26.02 - The WB confirmed the cancellation of Birds of Prey, their Wednesday night 9pm drama. Set to replace Birds of Prey in early January is Angel, which moves from Sunday night.

11.21.02 - According to People magazine, Charisma Carpenter is expecting her first child with hubby Damian Hardy. The baby, a boy, is due in March.

11.1.02 - TV Guide Online: Is Buffy's Loss Angel's Gain? - Word that Buffy the Vampire Slayer may get a stake in the heart at the end of the season could turn out to be good news for sister series Angel. Joss Whedonb the creator/exec producer of both showsb tells TV Guide Online that if Buffy ends its seven-year run in the spring, it's "very possible" some of the show's MVPs could make a permanent jump to Angel....

10.22.02 - Wanda at E!Online reports that she just saw Amber Benson's movie (which she stars in, wrote and directed), and it is a must see for Buffy fans. Her friend, love interest and costar is none other than James Marsters, and we get to see him in a dress. We also get to see Andy Hallett without the makeup. Wanda didn't even recognize him until halfway through the movie, because he is so damn devilishly handsome. The movie is called "Chance."

9.18.02 - Zap2It.com: Sutherland, Boreanaz and LeBlanc Lead Zap2it's Battle - Zap2it's second annual Battle of the Network Stars got off to a rollicking start this fall with Round One drawing to a close on Wednesday (Sept. 18) and several contenders getting off to a strong start while others were left in the dust. Over 17,000 votes put "24's" Kiefer Sutherland (4012 votes), "Angel's" David Boreanaz (3873) and "Friends" Matt LeBlanc (3772) in the lead, pulling ahead of last year's early front-runners Sarah Michelle Gellar and Sarah Jessica Parker, who also performed well with 3710 and 3094 votes respectively....

8.27.02 - TV Guide Online "Caught in the Act" - Buffy the Vampire Slayer alum Eliza Dushku looks more like an Angel than a slayer at the New York City premiere of her film "City by the Sea."

8.27.02 - Eliza Dushku (Faith) will be on the Late Show with David Letterman the night of Tuesday, August 27th.

8.19.02 - Mike Farrell (Providence) has been recruited to play Enron chairman and CEO Kenneth Lay in CBS's upcoming Enron movie "The Crooked E," according to The Hollywood Reporter. Shannon Elizabeth ("American Pie") and Christian Kane (Lindsey McDonald) have also been cast in the film, which is based on Brian Cruver's memoir "Anatomy of Greed."

8.19.02 - TV Guide Online "Caught in the Act" - Angel's David Boreanaz tries to show off more than just his biting wit by lacing up his skates at a celebrity hockey game benefiting SCORE, Spinal Cord Opportunities For Rehabilitation Endowment.

8.12.02 - TV Guide Online: There's more turmoil on the set of the WB's Angel. David Simkins -- who three months ago succeeded David Greenwalt as showrunner -- has quit as a result of creative differences. Supervising producer Jeffrey Bell will now run the Buffy spinoff. Hopefully, all these behind-the-scenes changes won't ruin the show -- which was really good last season.

8.7.02 - TV Guide Online "Caught in the Act" - Buffy star Alyson Hannigan continues to cast a spell on former co-star and current beau Alexis Denisof at the Teen Choice Awards in Los Angeles.

8.5.02 - Zap2It.com: 'Buffy' and 'Angel' Stars Enjoy Hiatus - Last year, Alyson Hannigan and Alexis Denisof traveled the world. "Last summer, we took, like, 17 flights or something," says Denisof. "We went to Papua New Guinea and Fiji, London and New York, you name it. This year, we kept it kind of simple." The two actors met on the set of "Buffy the Vampire Slayer," but didn't start dating until Denisof's character, pompous British "Watcher" Wesley Wyndham-Price, moved to spin-off series "Angel," while Hannigan continued as witch Willow Rosenberg...

7.24.02 - The season premiere of Angel will air on October 6th.

7.18.02 - Zap2It.com: Emmy Snub No Shock to 'Buffy,' 'Angel' Producer - Color David Greenwalt unsurprised by the lack of Emmy nominations for the two series he worked on last season...

7.17.02 - Zap2It.com: 'Angel's' Denisof: Fourth-Season Debut 'Just Nuts' - When we last saw Wesley Wyndham-Price on "Angel," he was kicking Lilah Morgan out of his apartment after a little "angry sex -- revenge sex," as the man who plays Wesley, Alexis Denisof, describes it. This at the same time that Angel was being sent to the ocean floor by his son, Connor, and Cordelia was ascending to the heavens after becoming something other than human. And if you think that was crazy....

7.15.02 - Amy Acker got engaged four days ago in Australia.

6.20.02 - TV Guide Online: Angel Vamp: You Said a Mouthful! - Watching badass blood-suckers cavort on Buffy the Vampire Slayer has made heaven knows how many viewers wish that they could let their inner creatures of the night have their day. But it's not all hemoglobin and hair gel for the undead, reveals Mercedes McNab, who plays Spike's dingbat ex-ghoulfriend Harmony....

5.24.02 - According to The Hollywood Reporter, executive producer David Greenwalt is in final negotiations to join the new ABC drama Miracles as showrunner. Greenwalt would remain with Angel as a creative consultant, but that's of little consolation.

5.14.02 - The WB announced their fall schedule today, and Angel is moving to Sundays at 9pm ET next season.

5.6.02 - Zap2It.com: 'Angel's' Groosalugg Pulls a Triple Lutz - Mark Lutz has reason to be optimistic. Although he hasn't been attached to a series for the fall (yet), and his character on "Angel" appears to be living on borrowed time, the actor had a really good year TV-wise. He's been all over the network dial, from playing Natalie's fiancé in ABC's "Facts of Life Reunion" to guest appearances on NBC's top comedy and drama, "Friends" and "ER." The latter two being booked within a week of one another....

5.2.02 - David Boreanaz and his wife, actress Jaime Bergman, welcomed a baby boy, Jaden Rayne, into the world early Wednesday, Entertainment Tonight reports.

5.2.02 - Don't miss the great article on Angel starting on page 56 of the May 4th issue of TV Guide. When WB lost Buffy, it could have been a stake through the heart of its spin-off. But the show is gaining strength with new lifeblood, including an Angel baby....

4.30.02 - TV Guide Online: Jolie's It Guy Kisses and Tells! - Regrettably, Christian Kane's favorite moment with Angelina Jolie in the just-released romantic comedy Life or Something Like It didn't make it on the final reel. "We had one small kissing scene that got cut out of the movie," the 27-year-old actor laments to TV Guide Online....

4.29.02 - Wanda at E!Online reports that Angel is definitely coming back--to the WB. I spoke with Joss Whedon last week, and he said: "The WB will pick it up. I'm not worried." So, my friends, you shouldn't be either. My Frog buddies assure me the last thing the WB will do is let it go to UPN--which is exactly what would happen, since 20th Century Fox (Angel's production company) already has an agreement that if the WB cancels Angel, it will automatically join Buffy on UPN Tuesdays.

4.24.02 - Transcript of David Boreanaz's chat with Wanda at E!Online.

4.18.02 - Zap2It.com: 'Angel's' Coredlia Speaks the Truth - In Shakespeare's "King Lear," the monarch's youngest daughter, Cordelia, refuses to suck up to her father in order to be awarded dominion over part of his realm. Her honesty ultimately costs Cordelia her life. It's probably no coincidence, then, that the brutally honest character on The WB's "Angel" played by Charisma Carpenter is also named Cordelia. "She's really the best friend you could ask for," Carpenter says of Cordelia. "She always tells the truth." It's a trait that doesn't always make Cordelia the most endearing character -- especially in Carpenter's years on "Buffy the Vampire Slayer." Cordy more often than not played the stuck-up, popular-girl role in the show's high-school setting....

4.17.02 - TV Guide Online: Wedding Bells for Felicity Star? - Despite rumors, Felicity star Tangi Miller has no plans to transfer to Angel once her college drama ends its four-year run next month on the WB. Of course, that could change should her real-life beau, Angel regular J. August Richards, someday quit....

4.15.02 - TV Guide Online: Hollywood Can't Bedevil Angel Star - As lethal with a punch line as a broad sword, Charisma Carpenter ought to be making a killing in Hollywood. But the Angel scene stealer keeps such a low profile, she might as well be a fugitive on America's Most Wanted....

4.1.02 - From Scifi.com: David Boreanaz, star of The WB's vampire series Angel, told SCI FI Wire that he initially had mixed feelings about the Angel-as-daddy storyline, but that he now thinks the unlikely plot device worked well. "My initial reaction was one of excitement, because I knew it would be really strange and bizarre to have this child [on the show], but I wasn't really sold on the fact of how it was going to happen," Boreanaz said in an interview. "I was a bit nervous [about] that aspect."

Boreanaz--whose wife, actress and former Playboy Playmate Jaime Bergman, is pregnant with the couple's first child, due in May--added, "Angel's relationship with Darla [Julie Benz] was really played out in the second season, and I was nervous about that. They told me [the Connor storyline] wouldn't be as lengthy a play-out [as feared]. And, you know, as it progressed, it became [clear] that it would be more of a success than a failure. It could have been a dangerous thing for the character, but it opened up many more doors, and I think [the ongoing effect] is going to be great. And where this child may end up again, I don't know." After a hiatus of several weeks, Angel will return to The WB on April 15.

3.26.02 - Glory Days has been pulled from the Monday 9pm ET time slot due to its three extremely low rated broadcasts. The WB will sub repeats of 7th Heaven in for the series for the first two weeks of April leading up to the return of Angel on April 15. The move marks a strong rallying cry for Angel, who's repeat broadcasts topped Glory Days first-run ratings in its time slot.

3.14.02 - Angel was nominated for a Saturn Award by the Academy of Science Fiction, Fantasy and Horror Films as Best Network Television Series. The Saturn awards will be presented in June in Century City.

2.11.02 - Zap2It.com: 'Felicity's' Return Moves 'Glory Days' to Monday - The March 20 return of "Felicity" to The WB means that "Glory Days" will be moved to a new home, which in turn means another series will be bumped for a while. The new home is 9 p.m. ET Monday, and the bumpee -- for five weeks -- is "Angel...."

2.11.02 - TV Guide Online: Angel and Cordy: Let's Get It On? - Boy, does it suck to be Angel...

2.10.02 - Angel will be going on a five-week hiatus so the the WB can move Glory Days to Mondays at 9pm ET as of March 11th.

1.23.02 - Joss Whedon has said that he hopes to have another Buffy/Angel crossover sometime next season, even though the two shows are now on different networks.

1.21.02 - TV Guide Online: Angel, Lord of the Dance? - So Buffy all-musical episode. Big whoop. In an upcoming episode of Angel (airing February 4th), both series' creator, Joss Whedon, takes the white-hatted vampire and his gal Friday, Cordelia, to the ballet.

1.15.02 - For the first time since Angel's 1999 debut, Joss Whedon wrote and directed an upcoming episode (slated to air Feb. 4).

1.2.02 - Zap2It.com: 'Angel' On the Rise

12.29.01 - There's a great article on Elisabeth Rohm on page 30 of the December 29th issue of TV Guide.

12.20.01 - The WB will air reruns of Angel on Thursdays at 8 pm beginning Jan. 10. Original episodes of the vampire drama will continue to air on Mondays, but a full-time move to Thursday is a possibility.

12.20.01 - Joss Whedon is developing a new sci-fi action drama for Fox that's set in outer space. According to USA Today, Firefly takes place 600 years into the future and revolves around the crew of a small spaceship that takes on odd -- and sometimes criminal -- assignments. Fox has ordered 13 episodes of the new series, which is slated to debut next fall.

12.8.01 - TV Guide gives Angel Cheers for delivering the goods. Those devils on WB's Angel really know how to welcome a new arrival: The story line involving the birth of a "miracle baby" to the bloodsucking Darla and her longtime (as in 150 years) companion, Angel, was everything Scully's pregnancy on The X-Files last season should have been but wasn't: suspenseful and exciting, with a satisfying payoff. While the decidedly nonmaternal Darla was in labor—"I don't breath!" she screamed during delivery—she struggled with some puzzling new emotions. The episode ended with Mom sacrificing herself (with a stake through the heart, of course) for the kid, leaving Angel a single dad. We can't wait to see those baby teeth.

11.29.01 - Gossip maven Ted Casablanca of E!Online says that David Boreanaz's new wife, Jamie Bergman, is pregnant.

11.29.01 - Gossip maven Ted Casablance of E!Online reports that Eliza Dushku (Faith) was spotted hanging out in the posh VIP area of Boston club Avalon. Joined by her brother and some childhood pals (Dushku is from Boston), she was simply saccharine to everyone in the packed place. Dancing and drinking in low-rise dark denim jeans and a red tank with white lettering, the former Buffy babe mingled with the owner of the funky hot spot.

11.27.01 - David Boreanaz married his girlfriend Jamie Bergman last weekend in Palm Springs.

10.19.01 - Zap2It.com: Skip the Demon to Return to 'Angel' - Skip, the demon jailer, will be back, and David Greenwalt is still trying to get Adrian Pasdar to guest star...

10.13.01 - David Boreanaz will be on The Late Late Show with Craig Kilborn on CBS on Friday, October 26th (late night of Thursday, actually, since Kilborn airs at about 12:35am).

9.24.01 - Charisma Carpenter will be chatting live on AOL on Monday (tonight!) at 7:30pm ET. "While hunky David Boreanaz may be the reason Buffy fans followed his character to spinoff Angel, more than a few of us are fans of the snappy Cordelia (Charisma Carpenter). After evolving the character from a clothes-horse princess to a selfless evil hunter haunted by visions, Carpenter will join AOL (subscribers only; Keyword: Live) tonight to talk about what's in store for Cordy this season."

9.10.01 - TV Guide Online reports that even though Elisabeth Rohm has been cast on Law & Order, she was scheduled to reprise her role as Kate Lockley for one episode of Angel. However, due to scheduling conflicts, her appearance has been cancelled.

9.5.01 - TV Guide Online: Buffy Who? Angel Slain by a New Girl! - Hopeless romantics pale at the thought that, with Buffy the Vampire Slayer moving to UPN this fall and leaving behind spinoff Angel at the WB, the series' hot-blooded superheroes might never meet again....

8.29.01 - TV Guide Online: The Ultimate Buffy/Angel Crossover - There's good news and bad news for fans of Buffy the Vampire Slayer and spinoff Angel. First, the good: Although it was announced at this fall's Television Critics Association press tour that, since Buffy is moving to UPN, there will be no more crossovers...

8.20.01 - TV Guide Online: Buffy Bad Girl's Secret - Everybody is kung-fu fighting! Or at least, dusky Eliza Dushku seems to be doing so in most of her roles....

8.10.01 - Tangi Miller and J. August Richards are featured in the "Young Hollywood in Love" article in the August 11 issue of TV Guide.

7.16.01 - Jordan Levin, the WB's president, told TV Guide that there is no possibility of any Buffy/Angel crossovers now that Buffy has moved to UPN. "I think it's important right now, if Angel is going to work long-term [by itself on the WB], that [it] establish itself as a world that comes from the same mythology but operates with its own set of principles, guidelines and characters, and really establishes itself independently from Buffy."

6.27.01 - Zap2It.com: Pasdar Hopes to Make Time for Angel - David Greenwalt has expressed a desire to have Adrian Pasdar, the star of PAX and NBC's supernatural drama "Mysterious Ways," make a guest appearance on his show...

5.23.01 - If UPN was thinking Buffy will simply slide from Tuesdays on the WB over to Tuesdays on UPN without a hitch, they've got another thing coming. WB has chosen to air its primetime summer movies on Tuesdays instead of the previously considered Wednesdays, thus bumping Buffy to Wednesday nights for the summer. The other UPN-bound show, Roswell, will not air over the summer at all, and Angel will make his move earlier than expected to Mondays at 9pm. WB will schedule the TNT movie Witchblade on Tuesday May 29th, and then the following Tuesday, June 5th, the Flix from the Frog weekly movies kick in with I Know What You Did Last Summer with Sarah Michelle Gellar.

5.16.01 - From TV Guide Online: There were some tense moments at the WB's fall schedule presentation to advertisers Tuesday in New York when Angel star David Boreanaz - feigning bewilderment - appeared on-stage and uttered: "This isn't the UPN." The crack - a reference to sister show Buffy the Vampire Slayer moving to the Smackdown network - seemed to catch WB co-president Jordan Levin off guard. "We didn't write that," he told the packed room. The spirit of Buffy loomed large during the three-hour gathering - despite the network's best efforts to downplay the loss. "Buffy will always be a show close to our hearts," acknowledged Levin's partner, Susanne Daniels. "But we saw the [show's] teen audience begin to erode... and we're confident in our ability to refresh our schedule." More...

5.15.01 - The WB's official Fall Schedule was released today, and although there were some last-minute rumblings that Angel might be staying on Tuesdays at 9pm ET, the official schedule as it on Mondays at 9pm ET after 7th Heaven.

5.14.01 - According to the WB's Fall Schedule advance copy, Angel will be returning next season in the Monday, 9pm ET time slot. The official announcement will be made sometime tomorrow.

5.4.01 - Summer plans for the WB include a movie on either Tuesday or Wednesday night with movies borrowed from TBS. A Tuesday night movie would preempt Buffy the Vampire Slayer, which moves to UPN in the fall, and Angel. A Wednesday night movie would displace Dawson's Creek and Felicity. Whichever night the WB decides to go for a movie, it's expected to start in June.

4.30.01 - Wanda at E!Online reports that David Boreanaz is dating another TV star, but she's not on the WB.

4.22.01 - Zap2It.com reports that Elisabeth Rohm (Kate Lockley) will be joining NBC's long-running drama "Law & Order" next fall as the new Assistant District Attorney. Rohm will replace Angie Harmon, who asked to be released from her contract early so that she can pursue a feature film career. "I first worked with Liz four years ago and I have watched her develop into one of the finest young actresses working in television," says Dick Wolf, "Law & Order's" creator and executive producer. "Both [executive producer/head writer] Barry Schindel and I look forward to introducing another new and unique member of the 'Law & Order' family." The actress will join the cast in the fall at the beginning of the season, "Law & Order's" 12th. Production begins next week in New York City.

4.20.01 - After months of negotiations, Buffy the Vampire Slayer is jumping from the WB to UPN. UPN announced late Friday that it has sealed a two-year, $102 million deal with Buffy producer 20th Century Fox Television, ending months of speculation over whether the show would leave the WB, its home since its premiere in March 1997. UPN has ordered 44 episodes of the series, which will begin airing this fall on its new home (time and date are yet to be announced). Sources say UPN will fork over $2.3 million per episode for the first season and $2.35 million for season two. The deal also is said to include a provision that would allow UPN to pick up the Buffy spinoff Angel for two seasons if the WB cancels the show. Said UPN President Dean Valentine in a statement: "We are incredibly pleased to have Buffy the Vampire Slayer on UPN, not just because it is one of the best shows on the air and represents a new era in UPN's life and direction, but more importantly because Joss Whedon is one of the finest writers and producers in television. Our main motivation for pursuing Buffy so aggressively was to be in business with Joss and with 20th...and we're very pleased to have that opportunity." The 100th and final WB episode of Buffy airs May 22.

4.20.01 - Elisabeth Rohm (Kate) is the frontrunner to replace Angie Harmon on NBC's Law & Order, the New York Daily News reports. A show spokesperson had no comment.

4.5.01 - Angel has been nominated for a Saturn Award for best series by the Academy of Science Fiction, Fantasy and Horror Film. The 27th annual Saturn Awards ceremony will take place on June 12 at the Park Hyatt Hotel in Century City, CA.

4.3.01 - TV Guide Online: Angels on the Outs - Joss Whedon is upset with Fox's decision to put Dark Angel up against Angel in the same Tuesday night time slot...

3.12.01 - David Boreanaz, along with Leelee Sobieski, presented the award for Outstanding Female Actor in a Drama Series to Allison Janney ("The West Wing") at last night's SAG Awards on TNT.

3.9.02 - Joss Whedon is named one of TV's MVP writers in the March 9th issue of TV Guide. From sexual temptation to a mother's death, he explores coming-of-age stories in provocative and unexpectedly moving ways, brilliantly melding horror with humor–and even musical comedy. "He's totally different than any producer I've ever worked with," says Alyson Hannigan, who plays Willow. "You can joke around with him. He's just a kid reliving his high school experience–except this time he's popular. That makes him very happy."

3.6.01 - David Boreanaz will be one of the presenters at the 7th Annual Screen Actors Guild Awards, to be telecast on TNT Sunday, March 11th at 8pm ET.

2.10.01 - Joss Whedon was named one of the MVP producers of TV in the February 10th issue of TV Guide.

2.7.01 - Don't miss Alexis Denisof in the upcoming independent film "Beyond City Limits" with his real-life girlfriend Alyson Hannigan ("Buffy the Vampire Slayer").

2.5.01 - The episode "Darla" was nominated for two Hollywood Makeup Artist and Hair Stylist Guild Awards in the category of Best Period Makeup, Series and Best Period Hair Styling, Series. In addition, "The Shroud of Rahmon" was nominated in the category of Best Special Makeup Effects, Series.

2.2.01 - TV Guide Online addresses how "Angel" might fare if "Buffy" leaves the WB.

1.10.01 - David Boreanaz's new movie "Valentine" is scheduled to open in cinemas across the United States on February 2nd, 2001.

1.2.01 - Ain't It Cool News is reporting that David Boreanaz is apparently being considered for the lead role in the new movie, "Resident Evil". Here is the full article:

"A source close to the UK casting department of Resident Evil tells me that the man seriously being considered for the lead in the film is Mr David Boreanaz, the *ahem* moody and charismatic star of Buffy spin-off Angel. Apparently the final decision is down to finding suitable gaps in his Angel schedule. Should make a nice change from killing vampires, I suppose."

12.28.00 - David Boreanaz has received a nomination in the upcoming TV Guide Awards for Actor of the Year in a Drama Series. Unfortunately, the show itself missed out on nominations for Drama Series of the Year, Actress of the Year in a Drama Series and Supporting Actor of the Year in a Drama Series. The awards are scheduled to be taped on February 24th, 2001 and are set to air on March 7th on FOX.

12.21.00 - Amy Amatangelo at dish this says that "Angel" is her number three show of the ten best shows of the year.

11.14.00 - TV Guide Online: Coming up necks on Buffy and Angel

11.8.00 - J. August Richards will be chatting live on TV Guide/AOL on Tuesday, November 14th at 8pm ET.

10.24.00 - The WB's interview with J. August Richards.

10.9.00 - Inquirer Magazine: Guardian Angel - the Main Line's David Boreanaz takes flight as a virtuous TV vampire

10.9.00 - E!Online: J. August Richards: Angel-ic Crusader

9.28.00 - From Zap2It.com: The Olympics may be handing out gold medals to winning athletes, but The WB is celebrating its own victory after Tuesday night's debuts of "Buffy the Vampire Slayer" and "Angel." Against heavy Olympic competition, the shows reached new Tuesday night highs in the men 18-34 demographic, on the way to reaching an average of 5.95 million viewers. In total viewers, "Angel" actually outpaced "Buffy," 6.1 million to 5.8 million, but both shows were down slightly compared to last year's premieres. On the night, the network also showed strong results in its core demographics of female teens and women 18-34. "Buffy" and "Angel" both recorded a 3.5 rating / 11 share among adults 18-24, a new high for "Angel" and the highest rating for "Buffy" since January 1999. For the night, the shows recorded an identical 3.9 rating for households, and were tied in many demographics. In many major markets, including New York and Chicago, the network finished second on the night.

9.22.00 - IGN Sci-fi: Julie Benz - Angel's former love talks action figures and ice skating

9.18.00 - J. August Richards (Gunn) is dating Tangi Miller ("Felicity").

7.25.00 - "Angel" has been nominated for an Emmy award! The award is Outstanding Makeup for a Series and the episode nominated was "The Ring". The people who were involved in the makeup for this episode and possibly every other episode are Dayne Johnson (Head of the Makeup Department), David DeLeon, Louis Lazzara, Steve LaPorte, Rick Stratton, Jill Rockow, Toby Lamm, Jeremy Swan, Stephen Prouty, Earl Ellis, Dalia Dokter and Robert Maverick, who are the Makeup Artists for "Angel". Well done and make sure you tune in to the Emmy Awards on Sunday, September 10th, 2000 from 8pm-11pm on ABC, with Garry Shandling himself hosting the 52nd Annual Emmy Awards.

Also, some good news for "Buffy" fans as well. Joss Whedon has finally been nominated in the Outstanding Writing for a Drama Series category! The submission was "Hush" (of course) and the show itself is also nominated for several other awards. Unfortunately, Sarah isn't nominated for Best Lead Actress in a Drama Series, despite FOX's attempts to get her in. More information is here.

Raven's Realm has some good "Angel" articles up at the moment. There is an interview with co-creator and co-executive producer, David Greenwalt and another interview with series writer, Tim Minear. Use the following links to check those articles out - David Greenwalt Interview and Tim Minear Interview.

7.10.00 - There is an article on David Boreanaz and his new film "Valentine" at Ravens Realm. It speaks all about his upcoming film role, as well as a brief summary of the movie.

Ravens Realm has also posted an article on the new "Angel" Premium Season One Trading Cards, set for a release date in August. This exclusive new card set will contain episode coverage from the show's premiere 1999-2000 season, as well as a variety of collector cards. There are also a variety of subsets which include, "Demon Compendium", "The Women of Angel", "Wolfram and Hart" and "Angel Investigations". Some of the collector cards include areas such as "Dark Avenger" - a nine card foil puzzle of Angel and his friends, "I Love L.A." - Six foil cards featuring Cordelia, "Warrior's Will" - A special foil-etched card that explores Angel's mission on Earth, as well as the regular autographs section. In addition, each sealed display box will contain an exclusive "Box Loader" promotional card. Retail price for each individual pack may be $1.99.

6.29.00 - Eliza Dushku (Faith) has been named the "It Dark Star" by the June 30th issue of Entertainment Weekly due to her role on "Buffy" and her roles in the upcoming movies "Bring It On" and "Soul Survivors."

6.23.00 - The infamous "Angel" fansite, An Angel's Soul is giving fans the opportunity to speak to some of the actors from "Angel", when they activate the summer interviews this week. Only the ten best and original questions will be accepted, so get your questions in!

6.23.00 - The official website for Eliza Dushku's movie "Bring It On" lists the summary for the movie, as well as trailers. The trailers can be found here. Here is the summary:
Torrance Shipman (Kirsten Dunst) is a typical all-American high school girl. Since being been named captain of her school's championship-winning cheerleading squad, the San Diego Toros, she's on top of the world. She's determined that nothing-not even her homework, her nagging parents or her perfect college boyfriend-get in the way of leading her squad to its sixth consecutive national title. But the Toro's have some stiff competition this time out from the Clovers, an inner-city, hip-hop squad from Los Angeles. When Torrance learns that her predecessor has been stealing cheer routines for years from the rival squad, she realizes that the Clovers and their captain Isis (Gabrielle Union) are looking to even the score…and that the Toro's are in big trouble. Things get even worse when Torrance finds herself falling for Cliff (Jesse Bradford), an outsider from school with whom she normally would never associate, and with the national championships only a few weeks away, the pressure is on. Universal Pictures' and Beacon Pictures' rowdy comedy Bring It On, features a talented ensemble of up-and-coming young actors, including Eliza Dushku, Claire Kramer, Nicole Bilderback, Tsianina Joelson, Rini Bell, Nathan West and Huntley Ritter. The film is produced by Marc Abraham (Air Force One) and Thomas A. Bliss, written by Jessica Bendinger, and directed by Peyton Reed, whose credits include numerous music videos, as well as The Computer Wore Tennis Shoes and The Love Bug.

6.21.00 - As reported by Ravens Realm, Eliza Dushku's (Faith) movie "Soul Survivor" has been pushed back to a January 2001 release, instead of the slated September 15, 2000 release. A reason for the delay has yet to be given.

6.16.00 - Dark Horse confirmed in a recent news article that there will be a special "Buffy"/"Angel" crossover occurring in the comic series, tentatively scheduled for 2001.

6.7.00 - David Boreanaz won Best Television Actor at last Tuesday's 26th annual Saturn Awards recognizing the best in science fiction, fantasy and horror.

5.31.00 - David Boreanaz has been cast as the lead in the Warner Bros. thriller "Valentine," based on Tom Savage's 1996 book, "Valentine: A Novel." This will be Boreanaz's first studio feature film. He will play a college nerd who becomes the victim of a cruel practical joke by four women. Over a decade later, he has become suave, handsome and successful, yet still carries a grudge. He kills three of the four women on successive Valentine's Days, leaving one more to slay in order to complete his vengeance. Shooting begins in Vancouver in mid-July for a 2001 Valentine's Day release.

5.16.00 - The WB has announced that "Angel" will be keeping its 9pm ET Tuesday time slot after "Buffy" come next fall.

5.2.00 - Glenn Quinn has been cast in the VH1 TV-movie tentatively titled "At Any Cost." Variety describes the project as a fictional Behind the Music account of three friends in the music business. Charles Winkler directs the flick, which begins production this month in Texas.

4.18.00 - Charisma Carpenter answers your questions on E!Online

3.24.00 - Miss Doyle? Check out Glenn Quinn on TMC's Campfire Tales March 31st at 7:30pm.

3.8.00 - Check out the cover story on the departure of Doyle at ClickTV.com on

3.5.00 - Charisma Carpenter in Parade magazine

2.28.00 - "Buffy The Vampire Slayer" and "Angel" have both been given 22-episode orders for the 2000-2001 season. The WB gave production company 20th Century Fox the official word earlier than normal to allow production to begin sooner for the new season. Joss Whedon, creator of "Buffy" and co-creator of "Angel," will start in June writing and helming the storylines. Whedon plans to work on the "Buffy" scripts later this summer. "Buffy" continues to be one of the network's top performers, averaging a 3.3 rating/5 share season-to-date. "Angel" has also been a good performer, averaging a 3.3/5. Only "7th Heaven" and "Charmed" pull better numbers for The WB.

2.5.00 - Check out the short interview with Bai Ling (She) on page 5 of the February 5th issue of TV Guide.

2.1.00 - Soap Opera Digest reports that a tabloid report romantically linking Sarah Michelle Gellar with her former co-star, David Boreanaz, is false, according to a spokesperson for both actors: "The story is completely untrue. David and Sarah are just good friends."

1.3.00 - Don't miss the fabulous article on Charisma Carpenter in the January 1st issue of TV Guide.

12.20.99 - "Angel" and "Buffy the Vampire Slayer" have been named the second best television shows of 1999 by Entertainment Weekly.

11.20.99 - In the "Star Style" section of the November 20th issue of TV Guide there is a small picture of David Boreanaz and quote, "I am a total Gucci person tonight." The magazine mentions he was at the WB Radio Music Awards looking devilishly handsome in a long leather coat.

10.14.99 - Fox's "That '70s Show," beat both "Buffy" and "Angel" for the important teen audience.

10.8.99 - The premiere of Angel was an unqualified Nielsen smash! The show improved on its lead-in ("Buffy the Vampire Slayer") and gave the WB its best showing ever among men 18 to 49.